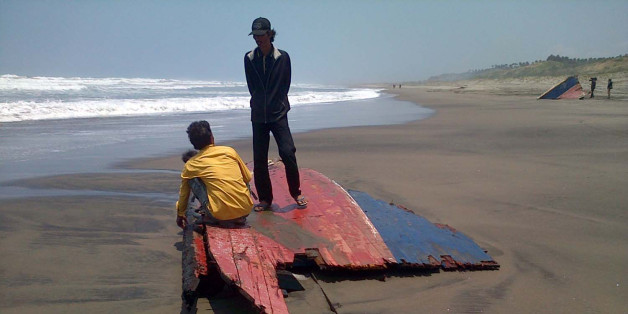 STR via Getty Images
Students at a university in Australia have been slammed for organising an asylum seekers pub crawl where attendees were asked to bring ID to avoid being sent home.
The event, organised by the Queensland University's Liberal National Club, was based on Tony Abbott's tough and controversial border policy.
The invite was issued on Facebook and has since been deleted but was published on the Brisbane Times website. It told revellers: "It's been a hundred long days without any new arrivals and we're starting to get thirsty.. Once on water operations commence we'll be breaching the sovereign borders of Fridays Riverside before smuggling our way into the infamous QUT botanic bar. As the sun sets we'll seek temporary protection at Irish Murphy's by which point you might find yourself feeling a little leaky. However, with any luck we'll end the night being resettled at the Royal Exchange Hotel..
"Regional processing requirements include GO card as well as valid ID to ensure there aren't any towbacks. A lifejacket is optional however we will do our best to ensure none of you find yourself overboard."
Mitchell Kingston, president of the university's Australian Labour Party Club, said many students at the university were from refugee backgrounds and would find the event offensive.
"It is shocking that people would trivalise such serious issues involving life and death for the sake of promoting a pub crawl," he said.
"It is also offensive to many students at UQ from a refugee background, and they don't deserve to feel victimised by their fellow classmates."
Student union president Josh Millroy added: "Occasionally some action by clubs can be insensitive or inappropriate.
"The union does not believe that it is appropriate for an affiliated club to run events that trivialise the dangerous and often tragic journey asylum seekers face and associated deaths at sea."