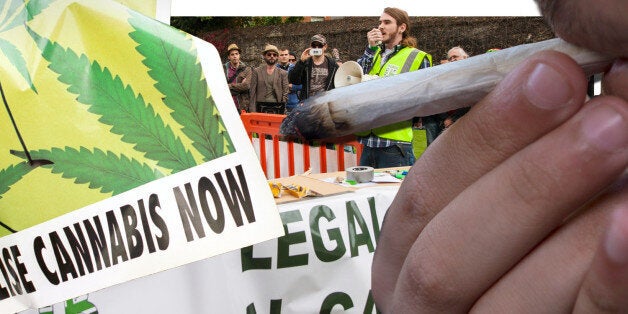 As Ukip leader Nigel Farage backed calls for drugs to be legalised in the UK, a policy expert has told The Huffington Post UK that "change is urgently needed."
As he became the latest in a long list of public figures to agree that, 50 years later, the war on drugs has undeniably failed, the question on whether the time has come for Britain to take the step from prohibition to legalised regulation has been raised yet again.
The Huffington Post UK spoke to one of the experts who advised the Uruguayan government on its landmark decision to make the production, sale and possession of cannabis legal, about what Farage's comments could mean for the UK.
Steve Rolles, the Senior Policy Analyst for the Transform Drug Policy Foundation, has argued for a regulated cannabis market under a strict and sensible framework, like the one implemented in Uruguay.
He said Farage's comments highlight how the fight for legalisation in the UK is not one limited to the left or right.
"It's striking how calls for an end to failed punitive enforcement approaches to drugs come from across the political spectrum," he said.
"When you have Noam Chomsky and Polly Toynbee agreeing with Nigel Farage and Milton Friedman, it has to be acknowledged that this is not a partisan issue owned by left or right."
Rolles said that although different political perspectives certainly have a different focus in their critiques - the left focusing more on the social justice issues, the right on the free markets and personal liberties – they all agree "at least that the war on drugs is a failed policy model and change is urgently needed."
Farage's attitude is nothing new however, with the Ukip leader having emphasised for years that the UK's drugs policy is not working.
Neuropsychopharmacology expert Professor David Nutt said the biggest obstacles to reform that we face are "prejudice, ignorance and irrational fear fuelled by parts of media."