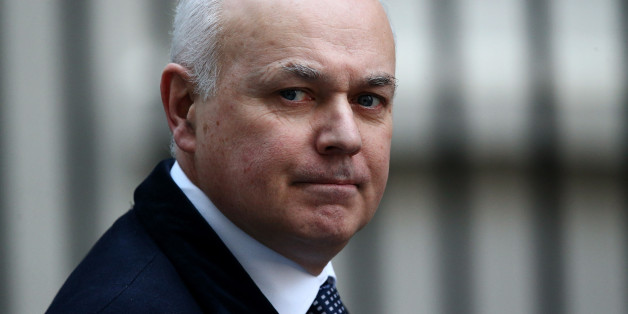 Dan Kitwood via Getty Images
Benefits have been cut again today, as the annual 1% cash terms increase is effectively a cut as it is still below the rate of inflation.
The real terms cut today is due to last year's introduction by MPs of the Welfare Benefits Up-rating Bill, which aimed to cut £5 billion from the welfare bill.
Work and pensions Secretary Iain Duncan Smith, who guided the bill through Parliament, told MPs that the move would be a "fair settlement" for workers and people on benefits.
However, the below-inflation rise means people relying on things like jobseeker's allowance or housing benefit will feel a continued squeeze. Only disability benefits and the state pension will be protected.
At the time of the bill's passing, critics warned that the cuts would "punish the poorest", and the Institute for Fiscal Studies has shown exactly that in this graph.
The IFS calculates that 2.5 million households without anyone in work will lose an average of £215 per year in 2015-16, while seven million households with someone in work will lose an average of £165 per year.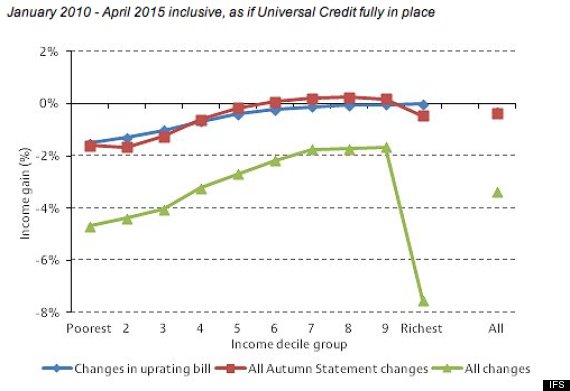 Oxfam's director of UK poverty, Chris Johnes, said: "Yet again, working-age benefits, which poor families rely upon, are bearing the brunt of the Government's cuts. The benefits budget seems to be the child constantly picked on, whose unpopularity makes it easy fodder for the axe.
"Already, compared to average earnings, benefits are at their lowest levels since the welfare state was founded. On top of this, inequality will deepen as the proposed changes in the Bill are undoubtedly going to hit poor families hardest."
This comes after official figures disproved David Cameron's claim that the number of households without work doubled under the last Labour government.
The prime minister said claims by the Archbishop of Westminster, the Most Rev Vincent Nichols, that recent changes to the benefits system had left many facing hunger and destitution were "simply not true".
Cameron said the reforms were not just about "making the numbers add up", but were intended to bring "new hope" to people who had previously been written off by the system.