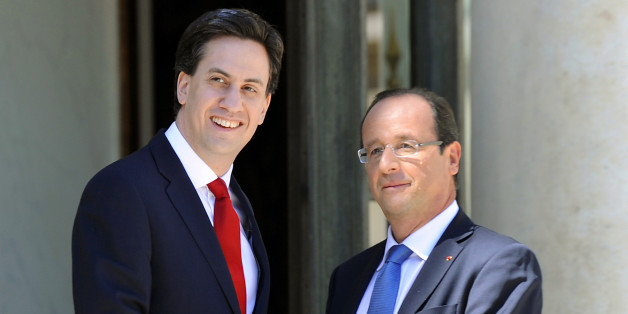 BERTRAND GUAY via Getty Images
Ed Miliband would govern Britain in the same "dark nightmare" way that Francois Hollande runs France only without the amusing affairs, an aide to Michael Gove jokingly predicted on Monday evening.
Ben Gummer, the Conservative MP for Ipswich and ministerial aide to the education secretary, told Tory activists in a central London wine bar last night that the consequences of a Miliband victory would be "failure wherever you look" but "without the cool bits" of Hollande's troubled love life.
"France as well all know, it's desperately sad, is sinking into the mire because of the appalling politics pursued by a man who's so unpopular he finds it difficult to form a government," Gummer said.
"Just imagine your mind's eye, Miliband coming out on the back of a scooter. It just wouldn't happen. Maybe for the man who plays the Rubix cube it would have to be a Sinclair C5.
"We'd have Hollande without all the good bits that made it kind of, not even worthwhile, but at least amusing. It would be pretty depressing. I don't know who would be at the other end. It wouldn't be Julie Gayet would it. Maybe, Polly [Toynbee]? Although it's a long way on a C5 from SW1 to Tuscany. It would be a miserable time."
Hollande's presidency was thrown into chaos last year when it was revealed he was having an affair with French actress Julie Gayet. One of the more bizarre details revealed of his secret nighttime rendezvous was that he visited Gayet by riding on the back of a scooter driven by a bodyguard.
Conservatives enjoy poking fun at Guardian columnist Toynbee for having holidays in Italy, claiming it undermines her left-wing credentials.
Hollande was embarrassed during his recent visit to the UK when the British press decided they were not going to give him an easy ride over reports of his affair. "Do you think your private life has made France an international joke?" he was asked.