'Game of Thrones' has returned, crashing and banging into its fourth season with its usual cacophony of dragons, demons, swords and whores. And Tyrion Lannister STILL has all the best lines.
Keen fans, of which there are many, will be rubbing their eyes this morning after staying up until 2am last night to catch the season premiere, being simulcast with the US's transmission time. Slightly less reverential followers can catch up tonight at 9pm on Sky Atlantic.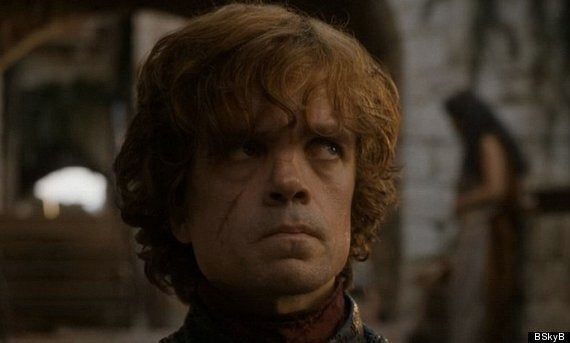 Tyrion Lannister - still has all the show's best lines
Here, in the meantime, are the 11 best things we spotted about last night's season premiere - and, yes, plenty of spoiling occurring, so don't read on if you're stopping the clocks tonight and preparing to wade once more into battle...
The very beginning - quiet, dark, ominous and beautifully filmed. Flame met forge, animal sacrifice was made and Tywin Lannister (Charles Dance) gazed intently into the fire as two swords were made out of ancient Valyrian steel. And that was before the credits!
When Jaime Lannister realised that, despite his military efforts, his suffering being captured, even sacrificing his right hand, he remains, in his father's eyes, a failure - BUT, he got to make up his own mind about where he wanted to be. And what did he want to do with his new found independence? Serve! How very un-Lannister-like. No wonder Charles Dance looked like he was sucking a lemon.
The moment when Peter Dinklage dropped his first bon mot as Tyrion, in this episode reassuring Bronn that he will be able to deal with Prince Oberyn's arrival - "I happen to be an accomplished diplomat." It was all in the timing. And, I guess, compared with the antics of his siblings and the tyranny of his nephew, he wasn't being 100% inaccurate.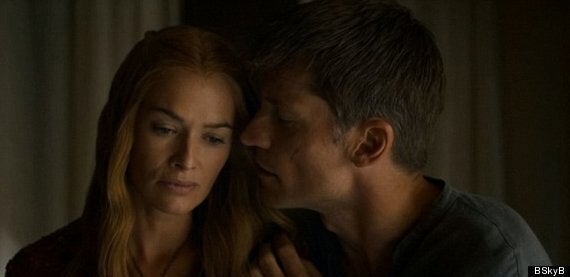 Poor Jaime - first the hand, and now this...
How the power shifted between the Lannisters and Prince Oberyn in the brothel, when lines like "Do you want to know a secret? You're not a lion" could be said with a straight face. Then Oberyn got to pull the first blade of this Series 4, proving the truth of his adage, "the long sword is a bad option in close quarters". We all knew this already, right? Not this particular Lannister, left with his hand no longer able to cup the breast of his whore, because it was now pinned to the table. Ouch!
Daenerys' dragons proving they are becoming, in fact may have become already, a law unto themselves. Will they become the only earthly creatures to be immune to her pale, unblinking gaze?
Watching unlikely husband-wife duo Tyrion and Sansa hanging out, with Tyrion's manly attempts to cure Sansa of her insomnia, depression and bottomless grief for the massacre of her family, "I could get you some nightshade," he said. Oh, that should do the trick. And perhaps some lavender scent on the pillow to wipe out any post-massacre trauma. But something tells me this pair will come to a better understanding before the series is out...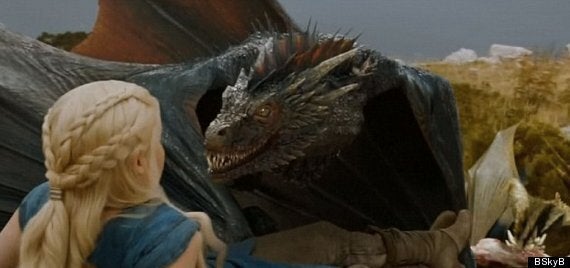 Are her dragons going to be God's only creatures who don't bend to Daenerys' will after all?
Unlike Cersei and poor Jaime, who was told in no uncertain terms that his brotherly love - of THAT sort - was no longer returned. "You return here with no apologies and one hand, and you expect everything to be the same," she told him. That's right, love, break it to him gently.
I'm no set designer, but the light being cast across Jon Snow's face as he attempted to explain his undercover activities to the Night's Watch was particularly beautiful. It was tiny shards of light through apparent darkness. Metaphor, innit? Anyway, whether it was the light, or his quick thinking, he managed to escape execution, with some smart talk about his mission to the North - as seems to happen a lot in this show. One minute they're ready to do away with you, next minute, you're the only person who can save them. Strange.
The very final battle scene, as grisly as anything we've seen before, with the belated but deadly intervention from Arya Stark, who made neat, nasty work of finishing off with her small blade as she was reunited with the second sword of the episode's title and proved, with a newly mature face, that she has become a force to contend with.
Jaime Lannister's poker expression in the face of Joffrey's contempt for his military endeavours. I know the whole series depends on it not happening, but please can the day come when Jaime, or anyone, makes short light shrift of this snivelling tyrant and wipe that smug smile off his pallid face?
Last, but by no means, least, Diana Rigg resplendent in glorious headdress and hammy as hell as Olenna Tyrell, including her just-about-sums-it-up response to Brienne of Tarth's arrival... "My word. We've heard all about you, but hearing is one thing… aren't you just marvellous? Absolutely singular."
As is the show. Welcome back. As good as ever. Phew!
'Game Of Thrones' returns to Sky Atlantic tonight at 9pm.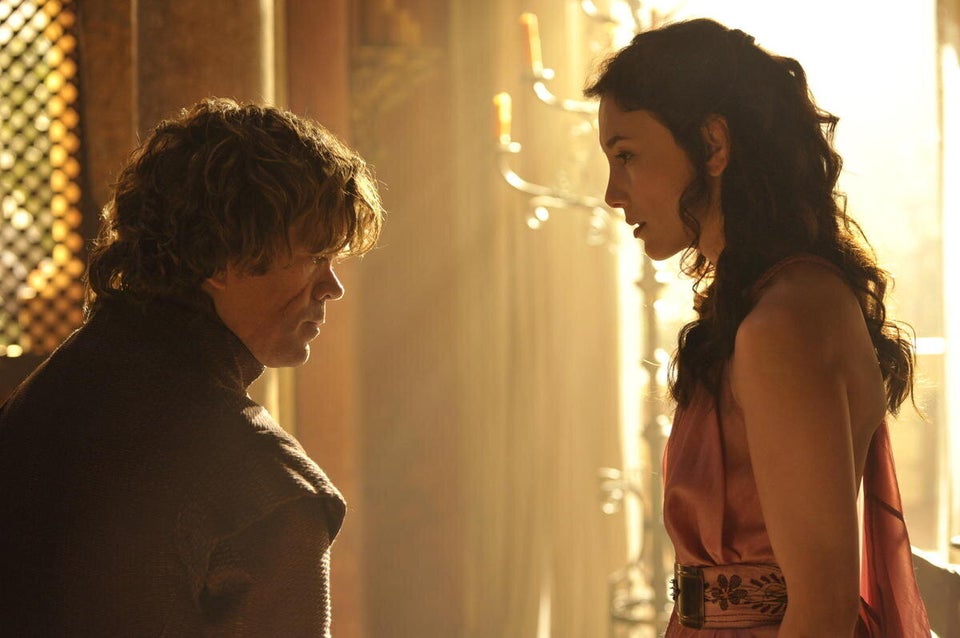 'Game Of Thrones' Season 4