An Australian vessel searching for missing Malaysia Airlines Flight 370 has detected signals consistent with transmissions from black boxes, an official has said.
Air Chief Marshall Angus Houston, chief co-ordinator of the Joint Agency Coordination Centre, said the Australian Navy vessel Ocean Shield has detected the signals twice in the past 24 hours.
The first contact lasted two hours 20 minutes and the second lasted 13 minutes, he said.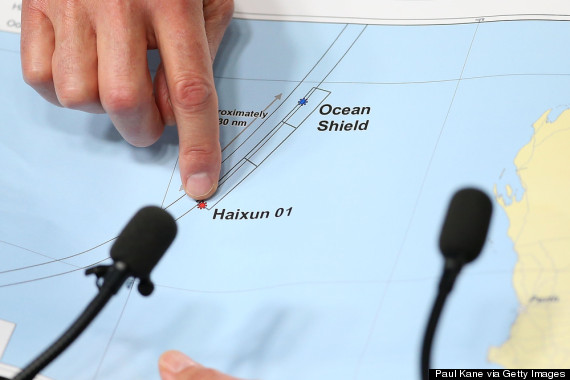 Air Chief Marshal Angus Houston holds a map outlining the current search areas of naval ships Ocean Shield and Haixun 01 during a press conference
"We haven't found the aircraft yet," he cautioned. "We cannot confirm it is from MH370 until we have found some wreckage. We need a good position on the ocean floor to search."
Royal Navy survey ship HMS Echo has arrived at the location where the Chinese boat, Haixun 01, detected a "pulse signal" in the southern Indian Ocean.
China's official Xinhua News Agency said that the patrol vessel had detected a signal at 37.5 kilohertz (cycles per second) - the same frequency emitted by flight data recorders aboard the missing Boeing 777 - in the search area, Associated Press said.
HMS Echo arrived this week in the area where search efforts are focused to find the missing plane. It is now hoped the ship's sophisticated sound locating equipment will help in the hunt for the plane's flight recorders.
Flight MH370, bound for Beijing from Kuala Lumpur, disappeared on March 8 with 239 people on board, with a three-week search finding no sign of it.
A spokeswoman for the MoD said it was good news that the ship had arrived and would join in the search for the black box.
HMS Echo is not the only naval vessel providing assistance.
The Australian navy's Ocean Shield, which is carrying hi-tech sound detectors from the US Navy, was also travelling to the area.