The third episode of 'Rev' found Adam Smallbone engaging in a spot of networking at Alex's office do, and bizarrely recruiting Dexter Fletcher, in the guise of a Turner Prize-winning artist, to do a piece for St Saviours.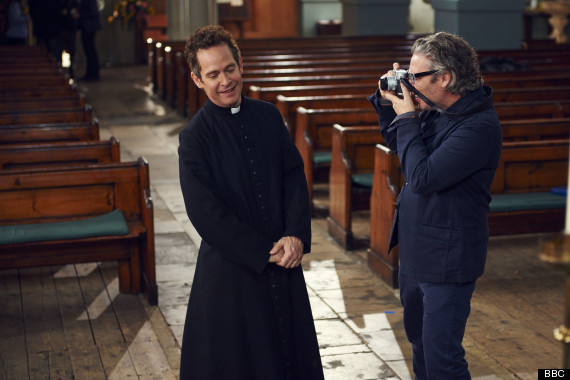 Rev is an unlikely muse for an even more unlikely punk artist, played by Dexter Fletcher, obviously
The good news was, he was offering to cough up the £60,000 needed to fill the church's emergency coffers. The bad news, he was a punk shocker of an artist, and nobody could quite predict what was going to turn up.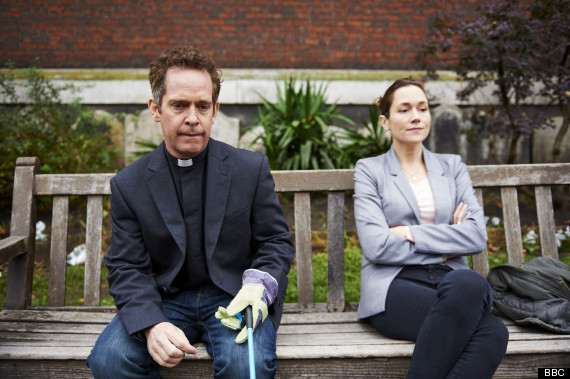 Into temptation...
The quality of 'Rev' is such that even the bizarre hardly-acting performance of Dex Flex was able to be accommodated, somewhere between the Archdeacon reenacting his taxicab midwifery, and the vicar being sorely led into temptation by a muck-covered schoolteacher, before a full-on faith-fuelled meltdown in the face of the 'art'.
None of which was quite as horrifying as the idea of Colin offering himself up as a model for life drawing classes. 'Rev's deceptively effortless combination of faith and frolics continues.
CLICK HERE for more TV Reviews
LIKE US ON FACEBOOK | FOLLOW US ON TWITTER