Prince George's public life got off to an auspicious start in New Zealand when he stole a toy from another baby he was meant to be playing with at his first ever public engagement.
But despite the little girl bursting into tears after George grabbed her Mary-Lou doll, an international incident appears to have been averted and George went on a crawl-around as Prince William and Kate, the Duke and Duchess of Cambridge, chatted with other parents who had babies of a similar age.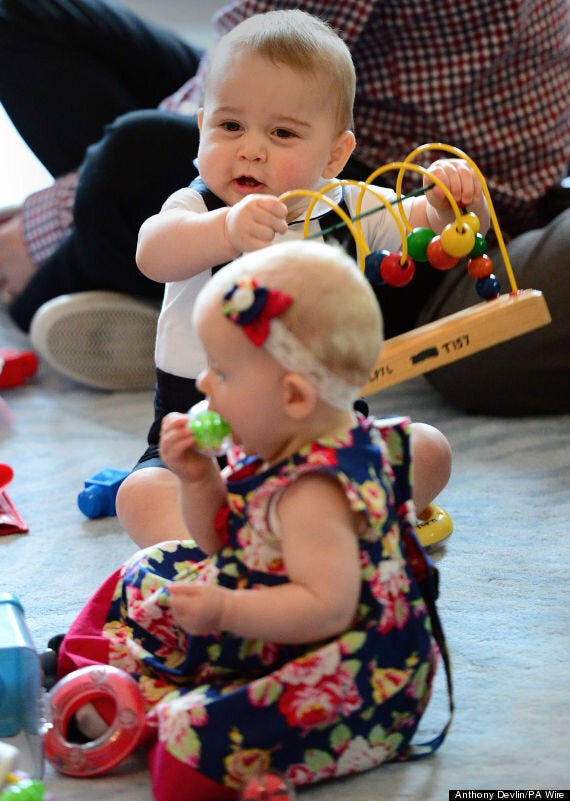 Prince George stole a wooden doll from a little girl on his first public engagement as a royal
During the event staged at Wellington's Government House on the third day of the Duke and Duchess' tour of New Zealand and Australia, the future king turned to a little girl called Paige who was with her parents, Jenny Stevens, 34, originally from the UK, and New Zealander Mark, 43.
He waved his arms to get her attention and touched Paige's face - before grabbing the wooden doll.
Mrs Stevens told the Duchess: "Paige grabs toys, she's just started teething," and Kate replied "George too".
Paige started crying after losing her doll to George and turned to her mum to be comforted, burying her face in her arms.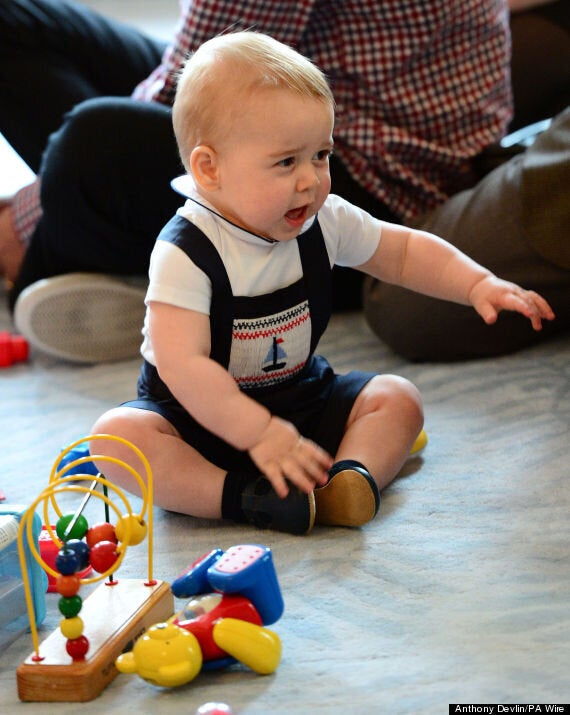 The future king waived his hands to get the girl's attention before pinching the doll
He grabbed at several other toys being held by other youngsters before Kate encouraged him to crawl to her and then pulled him to his feet.
Grant Collinge, 38, and Magda Gurbowicz, 35, met the royals with their baby boy Lucas.
Mr Collinge said: "George is bubbly, quite feisty and he took control. He crawled to the centre of the room and he owned the place.
"He honed in on certain toys and took the ones that he wanted. No-one was going to stand in his way."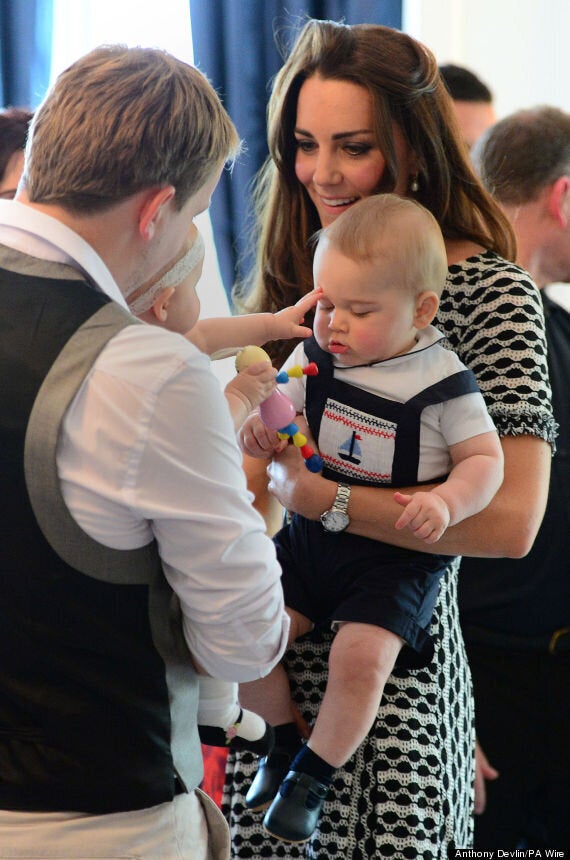 The Royals discussed George's progress at the event with the other parents
All of the children at the event were from local families and chosen by The Royal New Zealand Plunket Society, which provides health care and support to new parents.
Mr Collinge added: "We chatted to the Duke first and asked about how they and George coped with the jet-lag.
"William said sleeping and distracting (the baby) was the best thing to get over jet-lag and that's what they'd done with George.
"We spoke to the Duchess about group play - George had never played with so many babies before.
"She said it was the most amount of babies they'd ever had in a room with George. He does see other babies, but not many in a group like this."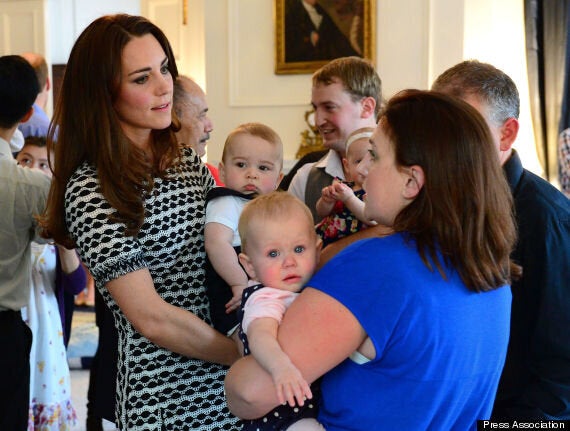 The Duke and Duchess of Cambridge met the parents of 10 other babies at the New Zealand event
Fathers Jared Mullen and Ryan Tunstall, whose baby daughter Isabella is adopted, also spoke about their encounter with the Duke and Duchess.
Mr Mullen said: "Isabella and George had a little play together, they were chums. In a way all we did was talk about babies.
"It was lovely to meet the Duke and Duchess and share our beautiful children with them. They are both very lovely and loving parents."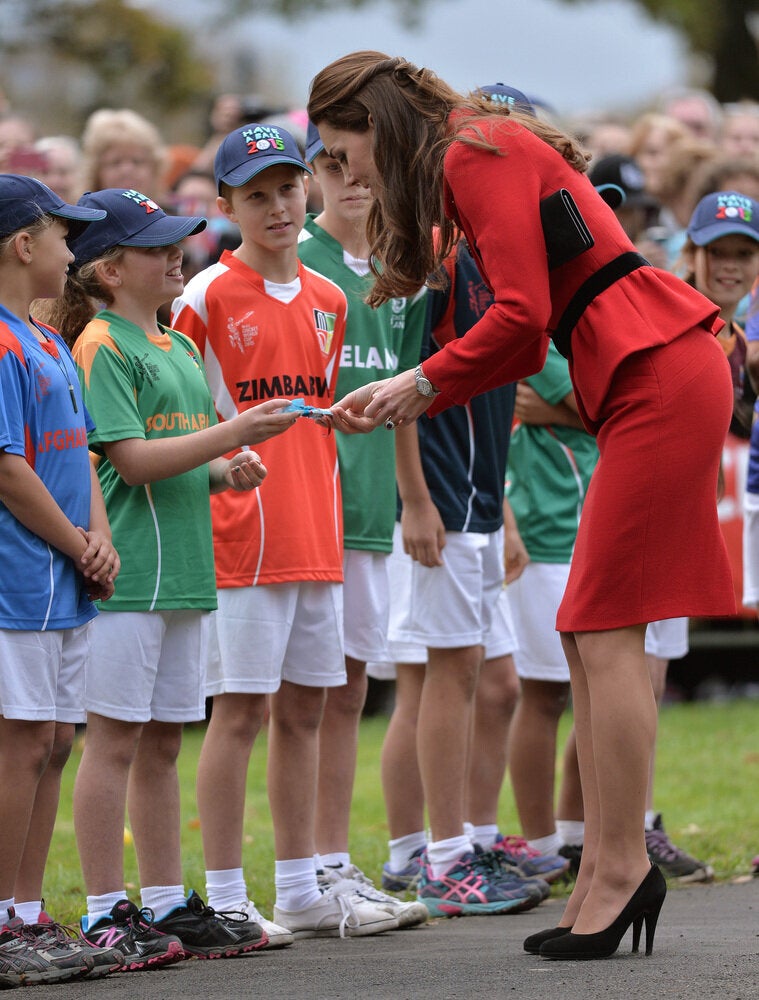 Wills and Kate visit New Zealand and Australia