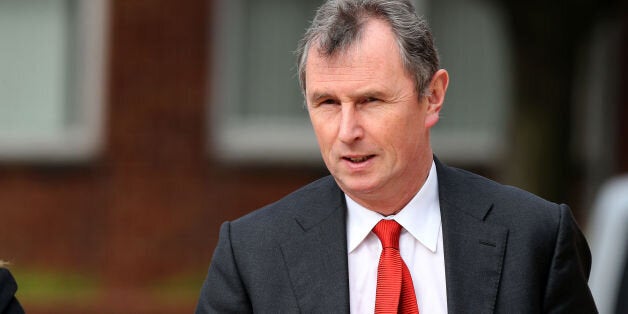 Nigel Evans should be allowed to resume his role as deputy Speaker of the House of Commons now that he has been cleared of all sexual assault charges brought against him, a Conservative MP has said.
Evans was elected John Bercow's deputy in June 2010. But he resigned the post in September last year after he was accused of sexually assaulting several young men. On Thursday he was found not guilty on all counts.
Tory David Morris said Eleanor Laing, who replaced the Ribble Valley MP as deputy Speaker, should step aside to let him return.
Speaking to The Huffington Post UK, Morris said the case should never have gone to trial in the first place and he was "outraged" at what had happened.
"He was a fabulous deputy Speaker, it was a sad day for democracy when he was brought down by this, he should be reinstated," he said. "His private life has been dragged through the coals for what reason? Why have they done it to him?"
Deputy Speakers overseas debates in the Commons when the Speaker is not present. Unlike the Speaker they are not required to resign from their political party. They receive an extra salary on top of their pay as an MP for doing the job.
Morris said he was not criticising Laing for the "very good" job she was doing in the role and that it was up to her whether she wanted to step aside. "Nothing is wrong with Eleanor Laing in any way, she is great," he stressed.
He said that when MPs stood to replace Evans, "every candidate" had said he or she would stand down should Evans be found not guilty of the charges against him.
Morris said he had not spoken to Evans about his campaign and did not know if he wanted the deputy Speaker job back. "Nigel will quite understandably wants to have time of bit of time out of the limelight," he said.
Tory MPs have rallied round Evans and hit out at the Crown Prosecution Service for taking the case. Former shadow home secretary David Davis called for the practice of using lesser charges to "reinforce" a more serious one to be looked at, and called for the Attorney General to review the issue urgently.
Conservative former prisons minister Crispin Blunt said the prosecution had been "artificial" and the verdict had not come as the "slightest surprise".
The Director of Public Prosecutions has defended the decision to prosecute the case. Alison Saunders said the CPS did not take "weak" cases. She said decisions to prosecute are normally based on police documents and video interviews, saying "evidence is tested in court in a way in which we are not able to when we make our decision".
Conservative MPs are to be given a new code of conduct setting out guidelines on how they should treat staff working in their offices. Release of the code was held back until after the end of the Evans trial to ensure there was no risk of prejudice.
The new code was sent out as a Channel 4 News investigation claimed there was a prevailing "climate of sexual harassment" in Parliament.
Channel 4 News said that its investigation - which involved interviewing 70 people from "all political parties and sexual orientations" - had found sexual harassment and abuse of power in Parliament was commonplace.
Popular in the Community