In an era where fitness bands and new wearable 'smartwatches' are clearly converging - just like iPods and smartphones did in 2007 - what is the role of a dedicated sports watch?
Polar is among a group of companies, including Garmin and latterly Tom Tom, who are trying to answer that question. The response is obvious - a more dedicated, specialised gadget aimed specifically at athletes (and wannabes). But in reality, is there anything these gadgets can do that smartwatches can't - or won't be able to do in six months' time?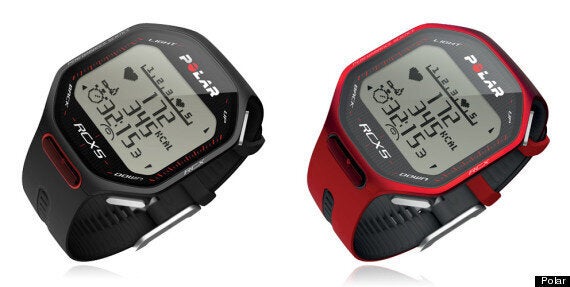 First up we looked at the Polar RCX5, a dedicated fitness watch first released in the UK in 2012. Obviously it's been a couple of years since then, and the tech itself is starting to age. Everything from the old-school monochrome face and screen to the strap design feel removed -- by at least a generation (or two) -- from newer devices, like Samsung's Gear Fit. To be honest, it's a pretty ugly device. If you were being generous you'd describe it as 'utilitarian'. You're not going to get away with it in a business meeting.
Luckily, the RCX5's strengths on its original release - its great battery life, the fact that its waterproof and cab be used to track everything from running to cycling and swimming via a separate heart rate monitor module - remain firmly in place. It's not designed for a meeting - it's designed for the trail. And once it's out in the wild, it performs well, capturing all your data accurately and with a minimum of fuss.
Add in an extra stride sensor or cadence sensor, and you can track your accurate running/cycling details too as well as your heartrate. If you're training for a triathlon, then, this is a good choice as you'll be able to use it for all of your training (compared to most cheap fitness bands, which are rarely waterproof or usable when cycling).
The downsides, though, are also obvious. There's no GPS. The display is simplistic and hard to read, and the complex data outputs and analysis screens are tricky to understand. It's also fairly hard to use compared to the better smartphone apps, and you'll have to put in a lot of work to get anything really useful out of it. Luckily there is an online tool to track your data, which is far more usable than the watch itself. The Polar Personal Trainer lets you see everything from heart rate to cadence (depending on attachments used) and is easy to upload.
The other major downside is the price, which still hovers around the £200 mark, not including the sensors. It almost feels as though some upstart company could come along and do the basics the RCX5 can do, for a much lower price.
One of those companies is… Polar.
Their newer gadget, the Polar Loop, is a much simpler fitness and sleep tracking wristband which is explicitly designed for a more casual user, but which is able to connect to an external heartrate monitor and be used while swimming too.
The loop is an attractive, well-designed take on the minimalistic fitness band, with a simplified 85-LED display and a single button. Designed to be worn all day, it tracks calories burned, steps taken, your heart rate (via the H6 and H7 Bluetooth smart heart rate sensor) as well as sleep patterns. Compatible with Android and iOS, it will upload your data via Bluetooth or USB and connect to the new Polar Flow web service apps so you can browse and analyse your data.
In a neat twist, the Loop goes further than some competitors in suggesting ways to make your daily goal, suggesting that you 'Run for 20 minutes' or 'walk for 60 minutes' if you're falling behind.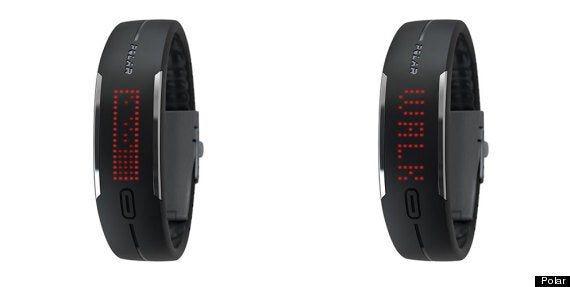 For a low price of about £70, it feels like a bit of a steal in direct comparison to the RCX5. While offering nowhere near the same level of data capture and analysis, it deals with most of the basics well and can still be used for prospective triathletes, given its functionality in the pool.
Again, however, the Loop too has downsides. It's not got too much to recommend it above similar products like the Nike Fuelband and Jawbone UP 24 (unless you're very into checking your heart rate), and lacks some of their own key USPs. It's also a fairly utilitarian-style device. For instance, you have to actually cut it down to size with scissors to fit it to your wrist - not ideal, particularly if you happen to mess it up.
That said, it's clear companies like Polar still have a lot to offer in this space. They understand the needs of athletes and committed fitness freaks well, and are developing a rich portfolio of gadgets to match. The gadgets we've tested are rock-solid, with great battery life and a consistent, if not beautiful, aesthetic. But neither of these products are the killer combination of heart rate, GPS and software design that Polar - and other firms - are capable of making, and that could truly unlock the market.