The Samsung Galaxy S5 is out from 11 April in the UK.
5.1 inch 1080P super AMOLED display
Android 4.4
Quad-core 2.5Ghz processor
16 megapixel camera
2GB RAM (16Gb/32GB on board storage)
2,800 mAh battery
IP67 water and dust resistant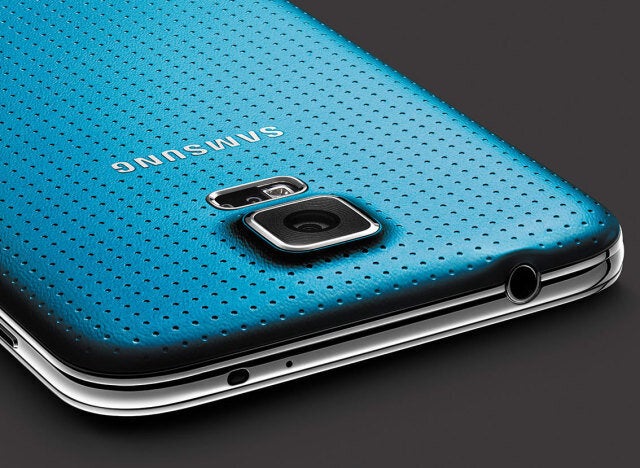 There's nothing original in saying that the Galaxy S5 - like any flagship 'sequel' phone - can be defined by the word 'evolution'. It can be, of course, in a sense.
But we think another word has an equal case for defining this phone:
The Galaxy S5 is the most focused smartphone Samsung has made in a while. All the key features are upgraded, and the new stuff works. The S5 knows what it is, what it does well, and outside of that core list of abilities essentially tries to get out of your way. That's really welcome, and adds a sense of consistency and design to the Galaxy S- that was lacking from last year's model.
Perhaps best of all, the S5 knows what to take away - or at least hide. The glut of software 'features' from last year are given less prominence. Samsung's flood of bloatware is now largely opt-in, and the added extras (including six months Deezer access) are genuinely good. Beyond that, there's not a lot of hollow 'new' stuff pretending to add value. Less is, indeed, more.
Not everything is a dead-centre bullseye, though. The plastic design is refined a little, with a new perforated back plate, but will alienate all the same people who didn't like it last time. TouchWiz, Samsung's version of Android, is still a bit 'Easy Learning Centre' for our taste. And there are still a few questions around performance which Samsung needs to address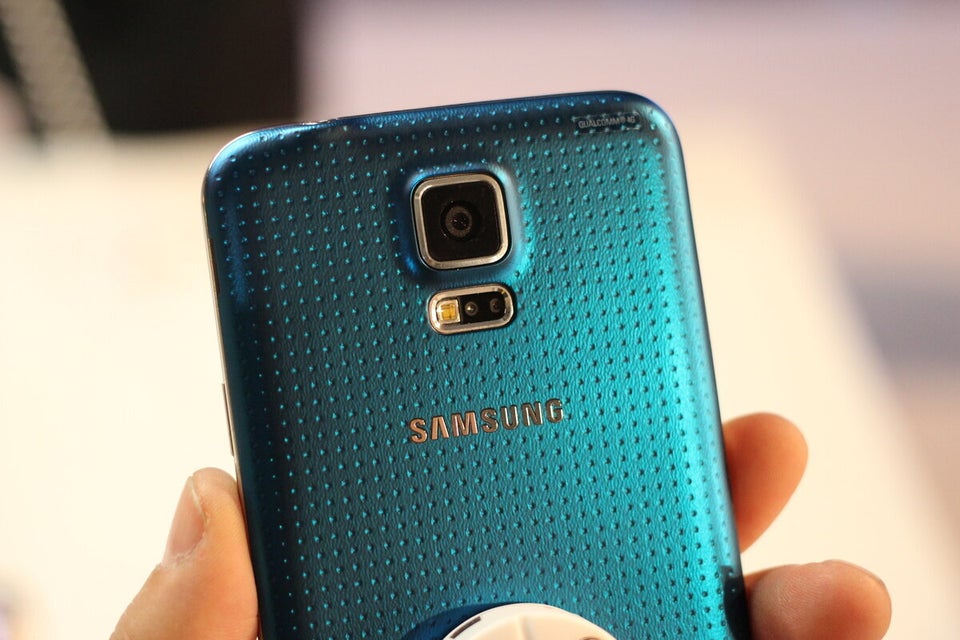 9 Ace Samsung S5 Features
First up is the camera, which this year is boosted to a 16-megapixel Isocell shooter and is - broadly speaking - fantastic. Pictures are big, clear, colourful and sharp. The auto-focus is incredibly fast, and you can now run HDR mode in preview, giving you a greater sense of what your light-boosted pictures will look like when you actually take them. It also has a bunch of new editing features, including selective focus.
Sadly the latter feature is by no means intuitive - on the HTC One M8 it's automatic and fast, whereas on the S5 you have to select it before shooting and wait for quite a while as it processes the image. Meanwhile experts will still debate the actual quality of the snaps versus the UltraPixel dual-camera of the M8, or the overall consistency of the iPhone 5S. But we think you'll be satisfied, and take some great pictures.
Health and fitness tracking is now a core feature of the Galaxy S5, and while Samsung in the past has taken a slightly scattershot approach to health apps and pedometers, in the S5 things are cleaned up nicely and given a hardware boost with the inclusion of the heartrate monitor. This sits just underneath the camera and runs via the S-Health app. You place your finger on it, wait a few seconds and check your reading. It works about 7 times out of ten, and while it doesn't give a real-time reading like a dedicated health watch it's a nice first stab and a cool extra. Whether you'll use it consistently or not remains to be seen - but it's neat to have the option.
The S-Health app itself also collates health and heartrate info from Samsung's wearable Gear 2 and Gear Fit, and tracks things like exercise and steps taken. It's limited, but intriguingly the S5 will also come with a free 12 month subscription to Endomondo, a much better app, which Samsung said will be integrated with its hardware features.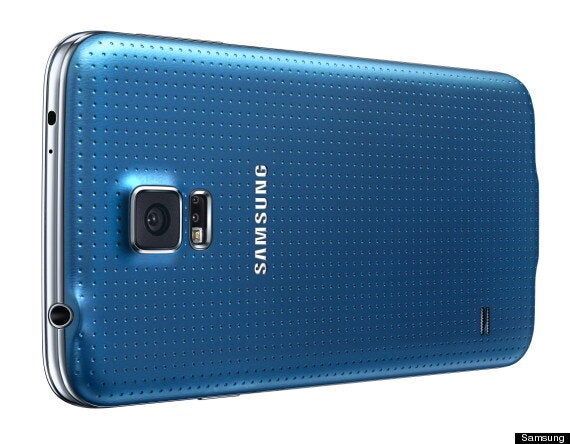 Battery and power management is another area of focus. The S5 has a large, removable battery (2800mAh) but also has a new Ultra Power Saving mode, which cuts down the features and turns the screen monochrome so you can eek out the last juice from your battery. It's sensible and it works, though perhaps mainly by forcing you to use your phone less than you otherwise would, as much as employing magic power voodoo behind the scenes.
A fingerprint scanner is also a new addition to the Galaxy S5. Located on the home button you have to train it to recognise your fingers, then swipe it down to unlock the phone and pay for things with PayPal - at least in theory (we didn't get PayPal working in practice, perhaps due to pre-release software). Unfortunately, while it works it's not quite as fast or accurate as Apple's TouchID. We found that often we'd hit our maximum five tries before unlocking the phone, and eventually gave up using it. It's not that it doesn't work - it does, and it's a nice option - it's just not quite accurate enough to be really useful, in our experience.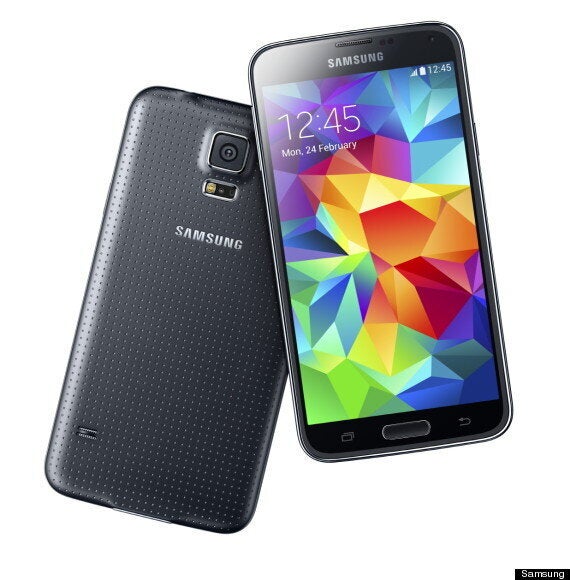 There are a number of other new features which are practical and useful, however.
The Download Booster option combines 4G and WiFi to speed up downloads over 30MB, and works brilliantly (as long as you don't hit your data cap). The display is slightly larger than before at 5.1-inches, but is a big improvement in terms of quality. The viewing angles are ace, colours pop vibrantly and it's now able to turn brightness down even further, which helps save battery and use it unobtrusively in the dark.
The new Snapdragon 801 processor is amazingly quick. And the phone is also now water resistant - not quite dunkable in a pint glass, but able to take a brief rain shower without any trouble. Alas, that means there's now a USB cover, which looks a bit flimsy. The Xperia Z2 did away with those this year, and for the better. But it's a good addition. Expandable MicroSD card storage also makes a welcome return.
So what does it all add up to? In one sense, just an excellent, well-rounded smartphone with brilliant essential features, some good new ideas and better approach to software. Samsung has learned to cut - or at least hide - the software fluff with which it was obsessed last year, and instead let the phone speak for itself. The hardware design will still pale in comparison to the iPhone and the M8, but it is at least consistent and defiantly 'Samsung'. A few years ago everyone said Samsung phones were copies of other brands - you can't say that now. They have their own aesthetic, and a sense of evolved, consistent design. This is the best Samsung phone ever, and the most self-assured one too.
The S5 is a brilliant, flagship phone - and it stands up alongside the Sony Xperia Z2, HTC One M8 and iPhone 5S with no trouble at all. And to reiterate our intro, it feels edited, pared down, and more thoughtfully designed than ever. What it's not, though, is a knockout blow. Except in respect of the unique features on which it has chosen to make its stand - health, and its new wearable line up - it's not objectively a better phone than those three competitors.
In one sense that's disappointing, but in another it's reflective of where smartphones are right now: evolving, sharpening, but not reinventing what mobile devices are or could be. As ever, we await next year (or sooner) with interest. Right now, though? This is one of the best phones ever made, and a great choice if the feature list gets your heart racing.
Related