A gay clergyman has become the first ordained priest to break the Church of England's ban on same-sex marriages to wed his partner.
Canon Jeremy Pemberton, who is a hospital chaplain in Lincolnshire, is reported to have tied the knot with long-term partner Laurence Cunnington in a ceremony at a hotel on Saturday, describing the nuptials as "a lovely wedding".
Last month, same-sex marriages became legal in England and Wales after a change in the law was voted in by MPs.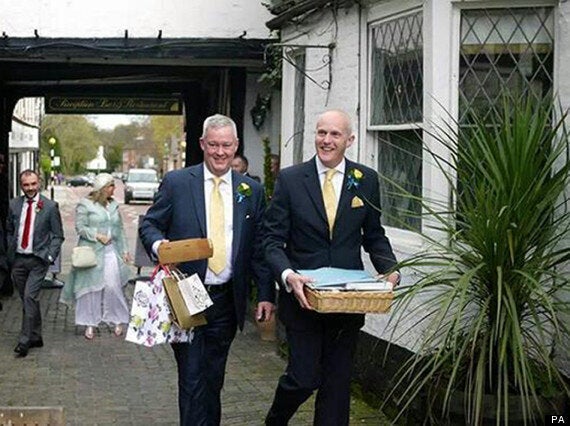 However, the Church of England, while advising its clergy to offer pastoral support to members of their congregation in same-sex marriages, barred gay ordained priests from being wed.
The House of Bishops' pastoral guidance on same-sex marriage, issued in February, reads: "It considers that it would not be appropriate conduct for someone in holy orders to enter into a same-sex marriage, given the need for clergy to model the Church's teaching in their lives."
Canon Pemberton, who is divorced with five children, took to Twitter - earlier posting a picture of himself and partner Mr Cunnington, both smiling, while "leaving for our honeymoon" - to comment: "It was a lovely wedding."
Responding to a large number of well-wishers, he added: "Marriage is wonderful."
Speaking shortly after the wedding, he said: "Thank you to all well-wishers.
"Nay-Sayers: we can talk another time maybe?
"Signing off for now - my husband gets my time."
The move means Canon Pemberton may now face a disciplinary process for his defiance of the Church's rules.
The Sunday Telegraph reported that the Bishop of Lincoln, the Rt Rev Christopher Lowson, had been aware of Canon Pemberton's intention to get married prior to the ceremony taking place.
In a statement, the Bishop told the newspaper: "I am aware that a member of the clergy who works in the Diocese of Lincoln has married a partner of the same sex.
"The priest concerned wrote to me in advance to explain his intention and we had a subsequent meeting in which I explained the guidelines of the House of Bishops."
The Bishop added: "The Church of England is shortly to enter a process of facilitated discussions about its response to same-sex marriage.
"I am committed to entering that process in a spirit of honesty and integrity, seeking to discern the spirit of God at work in the Church as we seek to understand the nature of marriage in the future."
Related