A charity runner has completed back-to-back London Marathons while carrying a fridge.
Tony Phoenix-Morrison, known as Tony the Fridge, ran the course alongside 36,000 people yesterday in a time of six hours, 11 mins and 57 secs.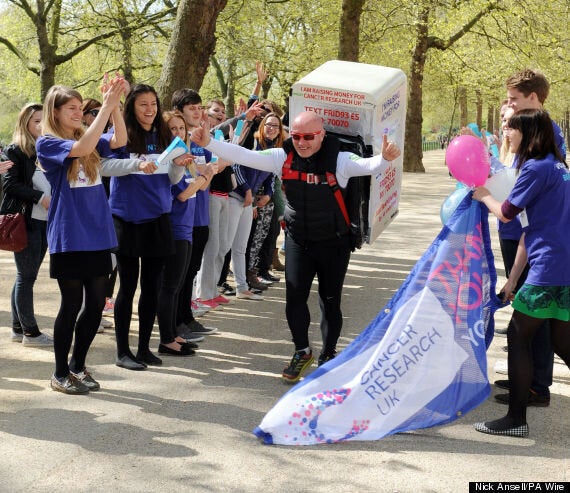 Tony the Fridge looks forward to some relaxation after two London Marathons
But after crossing the finish line he caught a train back to the start at Blackheath to complete the 26.2-mile course for a second time overnight.
The whole challenge took him just over 26 hours and he has raised over £10,000 for Cancer Research UK.
The 49-year-old, from Hebburn, South Tyneside, hoped to complete four marathons inside 24 hours, but sunstroke and vomiting forced him to halve the planned distance.
He was greeted by his wife and two of his children as he finished the challenge on The Mall in the shadow of Buckingham Palace just after 12pm today.
"I intended to do it a few more times but I've been extremely ill," he explained.
"I was hit by sunstroke - it was a very hot day yesterday - but I'm trying to raise awareness for people who have been struck down with a sudden illness so maybe it was ironic."
Mr Phoenix-Morrison said carrying the 42kg (93lb) Smeg fridge on is back was a "significant burden" to running.
"It's a trauma to carry it," he said. "It's not something I ever enjoy and I'll be really glad to put it down."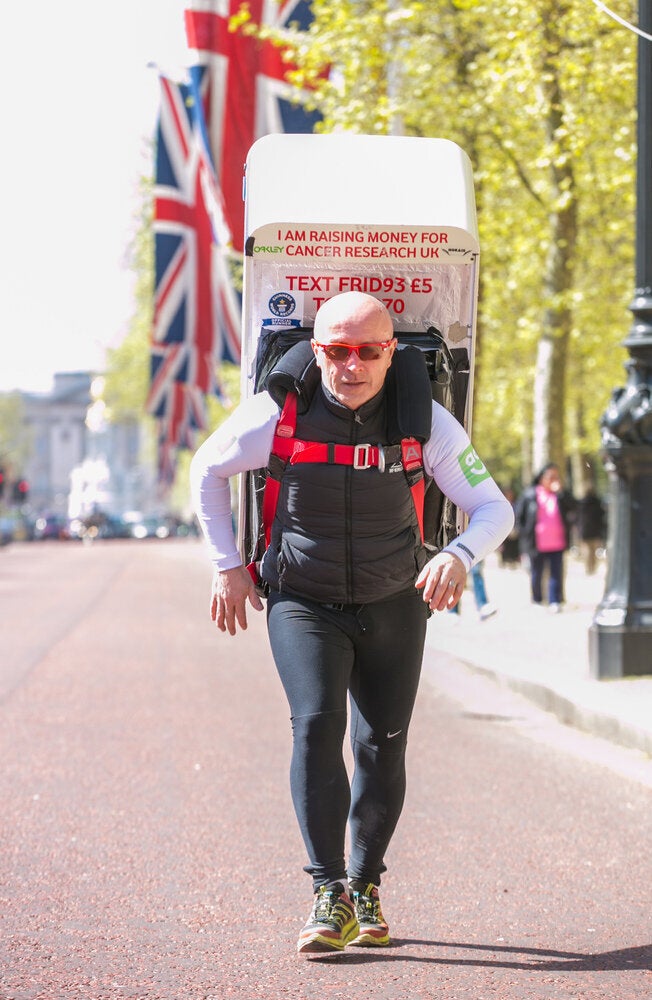 Tony the Fridge completes London Marathon
The marketing manager said this was his last challenge with the fridge, as he does not want to take attention away from other fundraisers.
"I wanted to make a significant amount of money for charity and I wanted to pay tribute to people in this crazy way.
"But I also believe that people should be able to bake cakes or run the marathon without any extra things like this.
"I want to honour and pay tribute to my fellow fundraisers by not continuing to step so much out of the crowd," he said.
Anyone wishing to donate to Mr Phoenix-Morrison's fundraising efforts can text FRID93 followed by £1, £3 or £5 to 70070.
Popular in the Community