Easter is upon us, and if you can spare a moment (or two) between egg rolling and Morris dancing you might get inspired by this lovely selection of Easter recipes, courtesy of Great British Chefs.
With delicious lamb options and the irresistible veggie artichoke tart, you're bound to find one of these dishes worthy of recreating.
SEE ALSO:
Alfred Prasad's Oven-Roasted Rack of Lamb, Matchstick Potatoes with Fenugreek Leaves and Wild Mushroom Pulao (serves 6)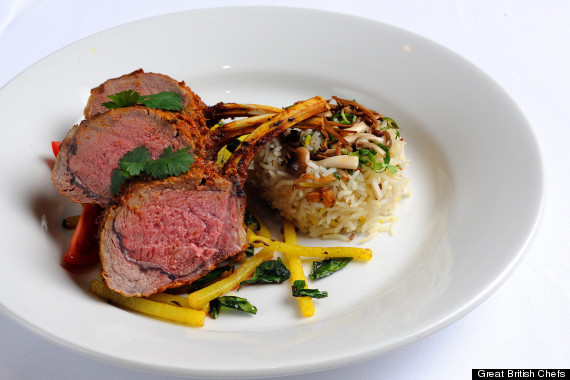 Cooking time: 2 hours
Rack of lamb
2 9-bone rack of lamb, French-trimmed
1 tsp of ginger
1 tsp of garlic paste
1/2 tsp of turmeric powder
1/2 tsp of chilli powder
1/2 tsp of ground cumin
1 tsp of black peppercorns, cracked
1 tbsp of malt vinegar
1 tbsp of vegetable oil
4 sprigs of fresh coriander
Straw potatoes with fenugreek leaves
1 Maris Piper potato, peeled
1 tbsp of vegetable oil
1/2 tsp of cumin seeds
1/4 tsp of turmeric powder
1 handful of fenugreek leaves
Wild mushroom pulao
250g of basmati rice
15ml of vegetable oil
1 tsp of cumin seeds
salt
1 knob of butter
2 tbsp of cream
10g of coriander leaves
Start with the potatoes, cutting them into 3mm thin slices. Place 5 slices on top of one another, before slicing again into 3mm thick matchsticks.
Add to a bowl of cold water and leave for 10 minutes, before draining and setting aside. Break the leaves off the fresh fenugreek and leave aside.
To make the pulao, wash the rice 2-3 times in cold water. Leave to soak in warm water for roughly 10 minutes, before draining. In a saucepan, heat the olive oil, along with the cumin seeds and half the chopped mushrooms. Saute for 2 minutes.
Add the drained rice to the pan and sauté for a couple more minutes, before adding 400 ml of warm water. Add a little salt and bring to the boil. Stir occasionally.
Reduce the heat, and add the butter and cream. Using a spatula or wooden spoon, stir all together gently, before leaving to simmer with the lid on for 10 minutes.
Remove from the heat. Add the rest of the chopped mushrooms and leave for a further 10 minutes. Gently fold the pulao from the sides with a spatula, and sprinkle with coriander leaves.
Heat the oven to 200°C/Gas mark 6. In a bowl mix together the ginger, garlic paste, turmeric, chilli, cumin, malt vinegar, oil, crushed peppercorns and salt. Rub thoroughly all over the lamb and marinate for 15 minutes.
In a hot pan, add 1 tablespoon of oil. Fry the lamb racks for 2-3 minutes on each side. Transfer to a baking tray and roast in the oven for 6-7 minutes for a medium-cooked finish. Allow to rest for 10 minutes before slicing into cutlets.
Return to the potatoes. In a pan, heat the oil along with the cumin seeds, potato matchsticks, turmeric powder and salt. Toss all together for 3-4 minutes, before adding the fenugreek leaves. Toss again and then remove from the heat once sure the potatoes are cooked through.
To serve, place a mould of mushroom pulao with a portion of the fenugreek potatoes on each plate. Carefully rest 2 cutlets on the potatoes, garnish with a few sprigs of coriander and serve immediately.
LIKE HUFFPOST UK LIFESTYLE ON FACEBOOK | FOLLOW US ON TWITTER | WE'RE ALSO ON INSTAGRAM
Chris Horridge's Lamb Loin, Parmesan Risotto and Pan Juices (serves 4)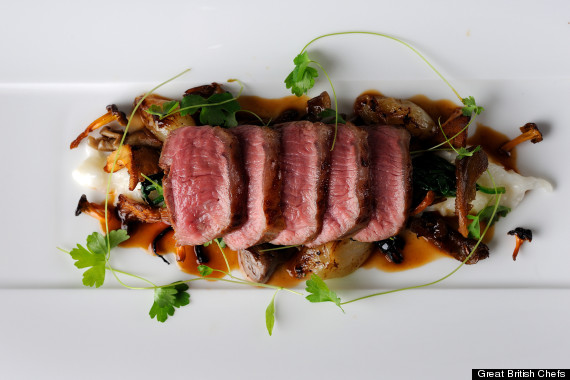 Cooking time: 1 hour plus 1 hour resting time
Lamb loin recipe
2 lamb loins
1 tbsp of olive oil
10g of butter
2 garlic cloves, peeled and chopped
1 sprig of rosemary, leaves stripped and chopped
Parmesan Risotto recipe
20g of butter
20g of shallots, diced
100g of risotto rice
375ml of water
100g of grated Parmesan
1 tbsp of truffle oil
salt
black pepper
Spinach
400g of spinach
10g of butter
Roast Shallots
4 banana shallots, peeled
olive oil
salt
Wild mushrooms
50g of wild mushrooms
20g of butter
To plate
1 handful of micro parsley
10 black olives
Remove the meat from the fridge and leave to sit at room temperature for at least an hour. Over a medium heat, melt the butter and sweat the shallots for 2 minutes. Do not allow to brown. Add the rice to the pan and cook for a further 2 minutes
Pour half the water over and bring to a simmer. Add a seasoning of salt and pepper. Lower the heat and cook slowly for a further 14 minute. Gradually add the water and seasoning as required.
Remove from the heat, before adding the Parmesan cheese and truffle oil. With a plastic spatula, gently stir all together. Pour onto a tray and cover until needed.
Heat the oven to 180˚C/gas mark 4. Using olive oil and salt, cover the shallots and roast in the oven for 45 minutes until tender. Once tender, remove and leave to cool, before slicing them in half-length ways.
Heat the oven to 180˚C/gas mark 4 again ready for the lamb. In an ovenproof frying pan, cook the lamb loins over a high heat in 1 tbsp of oil. Colour them evenly all over.
Add a knob of butter to the pan and continue to cook until all nicely caramelised. Expect this to take 3-4 minutes.
Season, before cooking in the oven for 5 minutes. Add the garlic and rosemary and coat the lamb. Leave to rest on a plate with all the roasting juices.
Separately, sweat the spinach in butter. Drain well before pressing it between two cloths. These will soak up any excess water.
In a pan, warm the risotto, adding a little water if needed. Cook until hot, and the contents has the consistency of a rice pudding.
In a small pan, melt the butter over a medium to high heat. Once it begins to foam, add the wild mushrooms and allow to sauté until golden. Then remove from the heat. Slice the cheeks of flesh off the olives, and add to the pan to warm through.
To serve, spoon the risotto on to each plates, and place a line of spinach on top. Slice the lamb before seasoning each slice, placing on top of the spinach. Carefully place the mushrooms and olives all around, before finishing with a spoonful of pan juices. Finish with the addition of some micro-parsley.
Marcus Wareing's Queen Anne's Artichoke Tart (serves 4)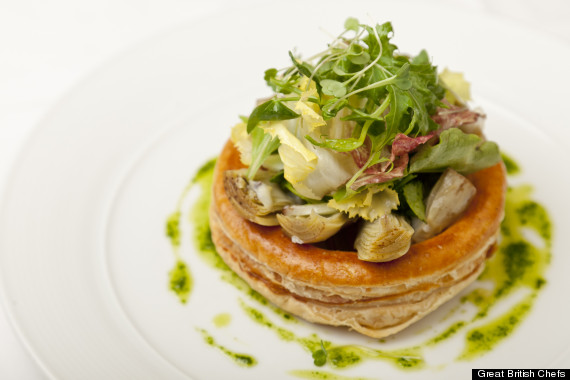 Cooking Time: 50 minutes
Artichokes
400g of globe artichoke, halved, some reserved for garnish
250ml of white wine
60ml of white wine vinegar
1/2 head of garlic
5 sprigs of fresh thyme
2 bay leaves
1 tsp of coriander seeds
1/2 tsp of ground white pepper
1 lemon, juice and halves of lemon reserved
100ml of olive oil
rock salt
Tart
1 leek, washed and chopped
1 small onion, sliced
50g of butter
50ml of cream
1/2 tsp of salt
500g of puff pastry
Vinaigrette
1 tbsp of finely chopped tarragon
1 tbsp of chopped chervil
1 tbsp of chopped parsley
100ml of olive oil
30ml of white wine vinegar
Start making the tart by preparing the artichokes. Put the artichokes in a pot/large saucepan with 1¼ litres of water
Add the garlic, herbs, coriander seeds, white pepper, olive oil, white wine, white wine vinegar, lemon juice and halves and rock salt to taste
Cover with a cartouche (a cut-out round) of parchment paper and bring to the boil. Simmer until just cooked and take the pan off the heat. Cool and store in the cooking liquid
To make the dressing, mix the herbs, olive oil and white wine vinegar together and set aside
Sweat the leek and onion in the butter until very soft. Drain and chop 1/2 of the artichokes thinly before adding to the leek and onion, then add the cream and bring to a gentle simmer. Purée in a blender until smooth
Preheat the oven to 180°C/gas mark 4. Roll out the puff pastry over 4 10cm tart cases. Line each case with the pastry and trim the excess. Alternatively you could use a 13cm circle cutter, cut out rounds of puff pastry, then fold a small edge on each pastry circle to create a tart edge
Pour the purée into the tart cases and garnish with the remaining artichoke wedges. Bake in the oven until lightly golden, take out and drizzle the vinaigrette on top. Serve immediately.
Recipes are courtesy of Great British Chefs, visit their website for more irresistible recipes.