Miley Cyrus has been hospitalised and forced to cancel a 'Bangerz' tour gig, according to reports.
A spokesperson for the Kansas venue where the 'We Can't Stop' singer was due to take to the stage has said that Miley has been "placed on medical rest by her doctors" and naturally, the singer has taken to Twitter to share some snaps and the latest news.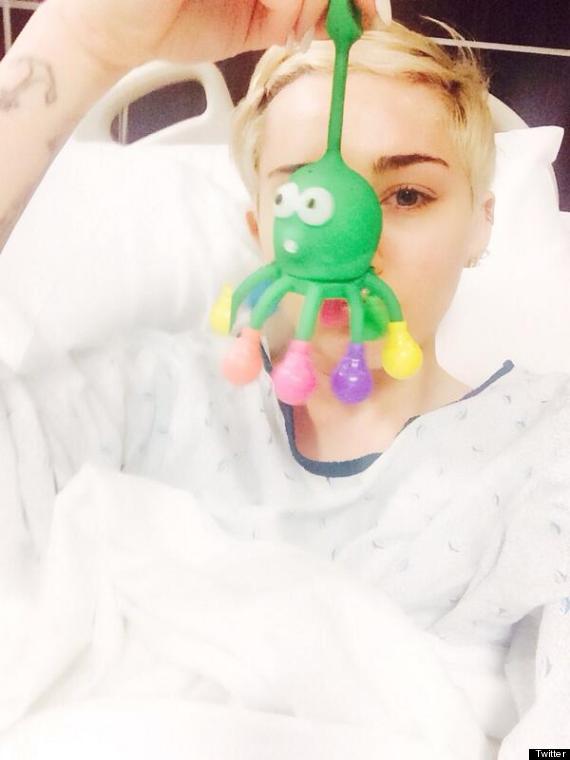 Miley shared this snap from her hospital visit
Shortly after fans found out that they wouldn't get to see Miley perform live, she sent out a tweet sharing her sadness, writing: "Kansas I promise Im as [heartbroken] as you are. I wanted so badly 2 b there 2night. Not being with yall makes me feel shittier than I already do".
According to Sky News, Miley was rushed to hospital following an allergic reaction to antibiotics.
The pop starlet also shared a picture of herself in what appears to be a hospital gown, writing: "Mr. Octopussy & some amazing Drs are taking good care of me".
This is the second 'Bangerz' concert Miley has cancelled, just last week she pulled out of a performance minutes before it was due to start, citing illness as the reason why she couldn't go on stage. Miley's on-stage antics have also caused a stir
Miley's had more than her fair share of dramas since embarking on the tour, which comes to the UK in May. Unexpected events so far have included a huge bus fire in New Orleans, 'getting high' in a recording studio and on-stage tears over her deceased pet dog.
The singer has also opened up about her previous battles with depression, telling Elle magazine: "I went through a time where I was really depressed. I locked myself in my room and my dad had to break my door down.
"It was a lot to do with... I had really bad skin and I felt really bullied because of that. But I never was depressed because of the way someone else made me feel. I just was depressed."
LIKE US ON FACEBOOK | FOLLOW US ON TWITTER