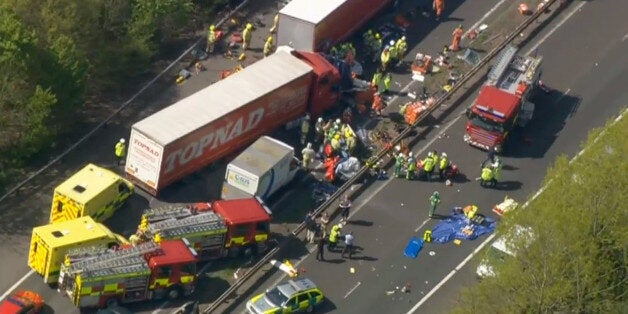 A lorry driver has been arrested following a five-vehicle pile-up which killed two French nationals.
Two people - a 22-year-old woman and a 16-year-old girl, both from France - died in the collision which blocked both carriageways
Seven other people were taken to London hospitals in a "serious condition" by South East Coast Ambulance Service following the crash.
Hundreds of motorists were stranded in traffic for several hours following the pile-up, according to the Red Cross, which sent emergency teams to the scene.
The huge tailbacks led traffic caught on the London-bound carriageway to be turned around and re-routed to the M20.
Kent Police said the carriageway was fully reopened to traffic at 4am.
Traffic caught in the coastbound queue was released past the scene mid-afternoon yesterday, and that section of road fully reopened early this morning.
Chief Inspector Matt Kendall said: "We appreciate that some members of the public were inconvenienced for some time but, in light of the tragic circumstances of the incident, we had a duty to conduct a thorough and detailed investigation at the scene.
"We worked with other emergency services to free traffic from the area and to reopen the road as quickly as possible."
Anyone who saw the events leading up to the collision, or the crash itself, and who had left the scene without speaking to police, should call the Serious Collision Investigation Unit on 01622 798538.
Popular in the Community