1.84-inch curved screen
iP67 certified
Acceleromter, gyroscope, heart-rate sensor
3-4 days battery
Bluetooth 4.0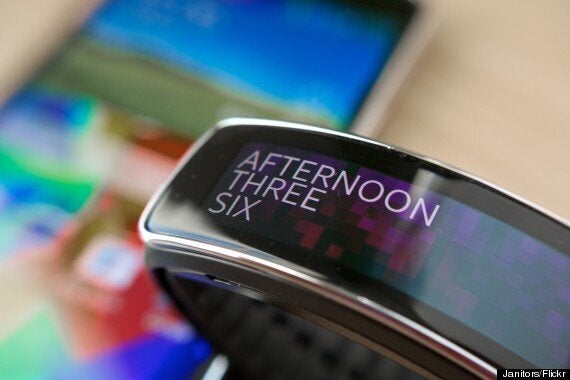 The Samsung Gear Fit is one of the most beautiful and intriguing new gadgets around. It's a curved screen smartwatch with exercise tracking apps, a heart-rate monitor and is water-resistant. It displays notifications and alerts from your Samsung phone, has a series of neat-looking watch faces and can be read vertically or horizontally. It also connects to your phone's GPS to track cycling and running with more accuracy. And yes, it's gorgeous. The colours pop off the screen and it impresses anyone who sees it.
Unfortunately, it's also a resolutely disappointing device. That's partly because it's so limited. There are no external apps you can install, and thanks to the fact it runs Samsung's own Tizen OS instead of Android that's the way it's likely to stay.
That said, there are other fitness-focused gadgets like the Jawbone UP and Nike Fuelband which succeed with an even more limited range of functions.
No, the reason the Gear Fit ultimately disappoints is just an overall lack of attention paid to almost every element of how the thing works.
None of the apps are beautiful or intuitively designed. The pedometer, for instance, has to be manually turned on and off, and only syncs with your phone's S-Health app every few hours (or once a day by default). The exercise monitor only works with running, walking, hiking and cycling, and can't be used to log other forms of activity. And it's inaccurate too - on a cycle ride around London I was told I had pedalled, at times, above 50 miles per hour -- improbably fast in between traffic lights.
Similarly, notifications are still almost as flawed as they were on Samsung's original Galaxy Gear. Unless they're from an official Samsung app they're badly formatted and hard to read. Even when they're readable they're almost impossible to respond to, and unlike the Gear 2 or Gear 2 Neo you can't make or take calls on it.
On the plus side the bands are swappable, which is nice, and the battery life is good at a few days' use. It's just hard to recommend unless you're a hardcore S-Health user, or really, really want to be the first kid on the block with a curved screen watch.