Jeremy Clarkson has faced accusations of racism from Twitter users after he named his new pet - a small black dog - 'Didier Dogba' after the former Chelsea footballer Didier Drogba.
This is the latest addition to the pack. He's called Didier Dogba. pic.twitter.com/IzmtpCuy9s

— Jeremy Clarkson (@JeremyClarkson) April 21, 2014
The Top Gear presenter's tweet sparked a flurry of angry responses suggesting the name was "racist" because both Didiers are black.
@JeremyClarkson its racist man! Casual racism! You should be ashamed of yourself

— Pavel Gbollyevich... (@gbolly999) April 21, 2014
.@JeremyClarkson is it because he's a bitch or you just racist?

— Jay Bucks (@TheMasterBucks) April 21, 2014
But the Top Gear presenter quickly responded to his critics arguing that he meant no offence.
Why is it racist to name our amazingly brilliant dog after a footballer?

— Jeremy Clarkson (@JeremyClarkson) April 21, 2014
The presenter is already in trouble after he was accused of using the term "slope" during the filming of a two-part Top Gera Burma special, a derogatory term for people of Asian descent.
In March, the BBC faced demands to conduct a formal investigation into the contentious comment or potentially face a £1 million lawsuit.
Clarkson also attracted criticism for tweeting a picture of oxygen masks on a plane shortly after Flight MH370 disappeared.
He also had to apologise for this a couple of months ago...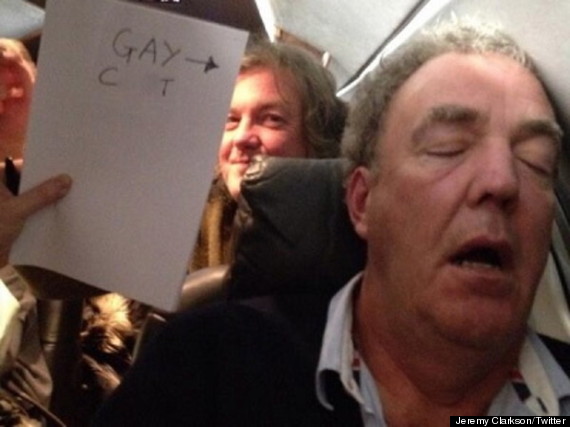 Jeremy Clarkson posted this image on Twitter