Michael Fassbender is managing to cause ripples with his latest film - without even taking his clothes off.
Not only is he fully-clothed for his latest film, 'Frank', but he sports throughout a giant papier-mâché mask, in his role of Frank Sidebottom, a real-life modern legend of Northern England.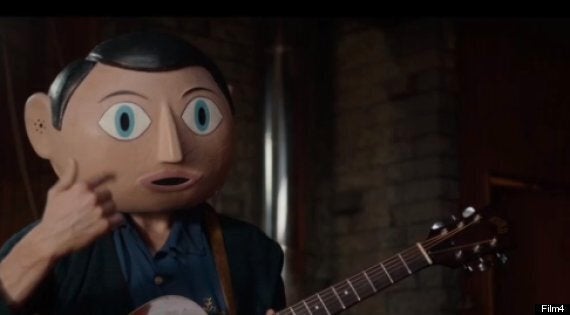 Michael Fassbender in the unusual garb of Frank Sidebottom
First reviews of Michael Fassbender's performance have brought the actor huge praise, but - and there's a big one - some fans have already voiced their dismay at the decision to bring this most distinctive-sounding Mancunian an AMERICAN accent.
Just a selection of the comments on the Guardian's site, since the trailer has been posted for the film, give an insight into the mood...
He's an American... I certainly won't go and see it and I can't wish it well.
He's American, and he's got muscles. How wrong.
Sorry. Frank is being played as AMERICAN? (Yes, he is. He really is.) Worst decision ever. So looking forward to this. Travesty. How can it be about Frank Sidebottom and his Timperley accent if it's not him?
Bollocks.... should have been set in Manchester!!!! Not a good idea, this is a British icon relegated to fiction!!!
The film's director Lenny Abrahamson has been quick to defend his choices, tweeting that the film's character was not just about Frank Sidebottom, but inspired by other characters too:
He said: "It was inspired by him but the Frank of the film is also inspired by Daniel Johnson, beefheart and has a v different biography than either Frank Sidebottom or the great Chris S. Ours is American, never takes head off, is in an avant garde band...etc. [sic]"
Frank Sidebottom was a regular, big face on North West television during the late 1980s/early 1990s, including a stint as a reporter on 'Granada Reports'. He also continued his earlier passion of fronting his band, The Freshies, and was a favourite on BBC Radio, and on Manchester's popular Piccadilly station.
Along the way, his associates became rich and famous. Caroline Aherne was a friend, whom he asked to speak in a voice like his neighbour's, and this character became the award-winning Mrs Merton. One of his drivers was broadcaster Chris Evans. A neighbour was Mani, who ended up in the Stone Roses. Meanwhile, Frank Bottom continued to play halls of four or five hundred - and seemed happy about it.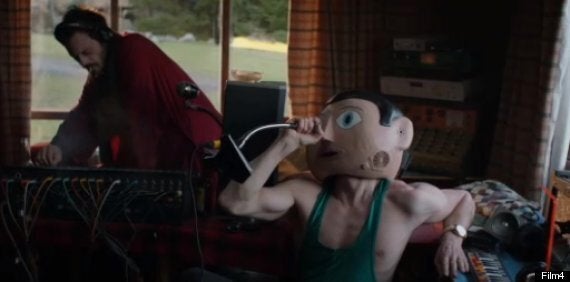 Frank Sidebottom was one of Manchester's most distinctive figures
The man behind the papier-mâché mask, Chris Sievey, died in 2010. Jon Ronson, who was in his band and has co-written the film's screenplay, told the Guardian that Frank's creator was often even more eccentric than his alter ego…
In the Guardian, he writes: "Frank was asked to support the boy band Bros at Wembley. There were 50,000 people in the crowd. This was a huge stage for Frank – his biggest ever, by about 49,500 people. It was his chance to break through to the mainstream. But instead he chose to perform a series of terrible Bros cover versions for five minutes and was bottled off."
When Chris Sievey died in 2010, he owed thousands of pounds in back taxes, and there were reports in Manchester that he would be having a "pauper's funeral". Jon Ronson and others were stirred into action, with donations flying in to give the comic a fitting send off. One local councillor even started his own campaign for a memorial statue - Frank Sidebottom cast in bronze, which had made its way from the Czech Republic to its final resting place outside the dry cleaner's in Timperly, Greater Manchester.
'Frank' premieres at the Sundance Film Festival on Friday, and opens in cinemas nationwide in May 2014. Full festival information here... and the REAL Frank Sidebottom in action below.
Popular in the Community