A man who swallowed a live goldfish as part of a neknominate challenge is believed to have been the first person to have been prosecuted in relation to the online drinking game.
Gavin Hope was taken to court after footage of his stunt was posted on Facebook, the RSPCA confirmed.
The 22-year-old was fined £300 for the dare, which also saw him preparing a pint glass with lager, chilli, tequila, a fresh egg and fish food before revealing why the fish food is going in.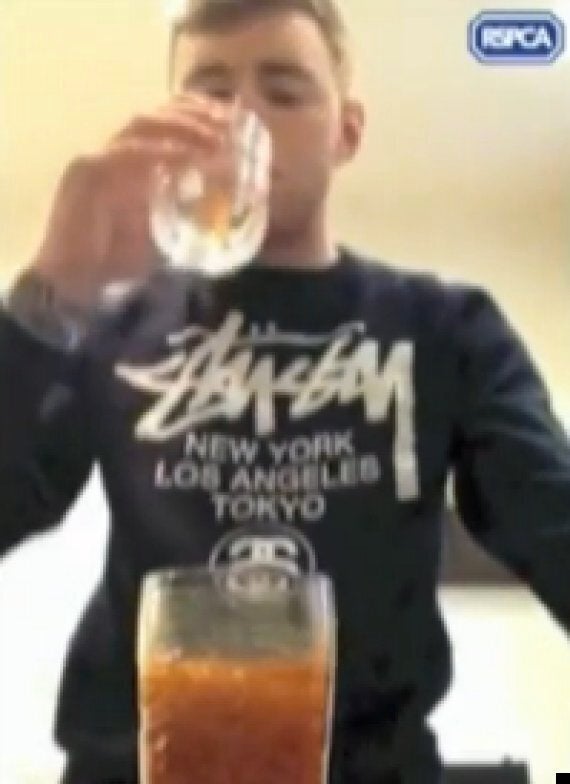 Footage of Gavin Hope swallowing the live goldfish was posted to Facebook
RSPCA chief inspector Michelle Charlton said: "He picks up another glass containing a small amount of water and the goldfish, which is swimming around, and shows it to the camera before drinking it down, and following it with the pint."
She said: "A vet report advised that the stomach would be a completely unsuitable place for a goldfish and that the fish would have died in time, the cause of death being a mixture of suffocation and acid ph levels in the stomach, as well as the alcohol he drank."
The society said that Hope told them that he had owned the goldfish for a couple of months.
He said he thought it was ill as it kept swimming into the sides of its tank and he was going to flush it down the toilet but decided to drink it as part of his Neknomination challenge instead.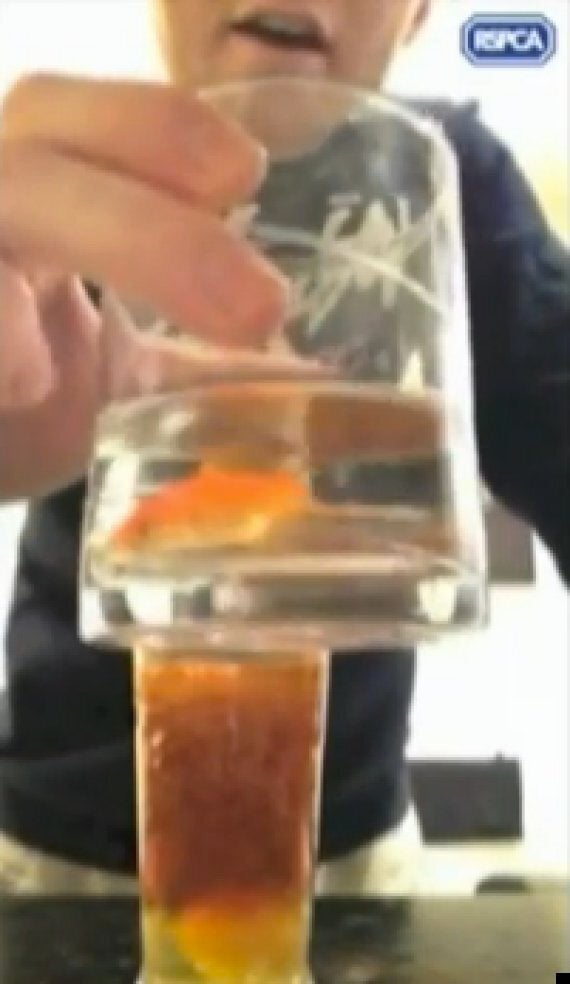 The goldfish is likely to have died from a combination of suffocation and acid ph levels in Hope's stomach
According to the RSPCA, Gateshead Magistrates Court heard how Hope was ashamed of what he did and claimed it was an impulsive act which would not be repeated.
Charlton said: "Eating a live animal and posting a video of it online for entertainment is not some light-hearted joke - it is unacceptable.
"The RSPCA takes the use of animals in these Neknominate challenges very seriously.
"We urge people not to involve animals in this horrible craze and to report to us anyone who is on our cruelty line 0300 1234 999."
The society said Hope, of Lauder Way, Pelaw, Gateshead, appeared before magistrates on Tuesday, where he was also ordered to pay a £30 victim surcharge and £431.17 costs.
He pleaded guilty to an offence under the Animal Welfare Act.
The offence was that on or about January 31 this year, he failed to meet the needs of a goldfish by failing to protect it from pain, suffering, injury or disease by drinking it.
Popular in the Community