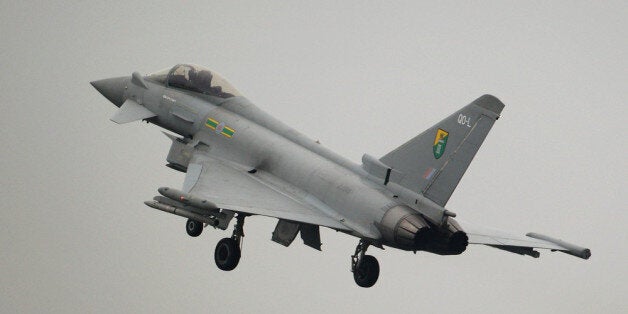 UPDATE: 6 Squadron Typhoon Pilot Flt Lt Gary Montgomery said: "We scrambled on 23 April to intercept two unknown aircraft approaching the NATO Air Policing Area from the north. We intercepted and flew within visual range and identified them as Russian Tu-95 'Bear H' aircraft. We monitored their progress, including handing them over to Danish F-16 QRA aircraft as the Bears flew towards Denmark, then continued to monitor them as they returned and then departed towards Norwegian airspace. During the sortie we air refuelled from a RAF Voyager aircraft, from RAF Brize Norton, to increase our airborne endurance. Intercepting Russian Bear aircraft is a routine occurrence for us, it's what we do to maintain UK Sovereign airspace."
A pair of Russian surveillance planes flew close to UK airspace on Wednesday, forcing the RAF to scramble jet fighters.
The Russian plane, reported to be Tupolev 95s, were detected flying off the coast of Scotland. The planes turned away from Britain after the RAF dispatched Typhoon jets from Leuchars airbase, near Dundee.
The incident comes during a period of heightened tension between Russian and the West following Moscow's annexation of Crimea and the countries reported involvement in fuelling unrest in the eastern cities of Ukraine.
A spokesman for the Ministry of Defence said: "Typhoon quick reaction alert aircraft were launched today from RAF Leuchars to determine the identity of unknown aircraft that approached the Nato air policing area north of Scotland and could not be identified by other means.
"The aircraft were subsequently identified as Russian military aircraft. The Russian military aircraft remained in international airspace at all times as they are perfectly entitled to do so. Russian military flights have never entered UK sovereign airspace without authorisation."
Speaking on Wednesday evening, Defence Secretary Philip Hammond said: "Recent events have increased awareness of Russian military activity, but we have always routinely intercepted, identified and escorted Russian air and naval assets that transit international airspace and waters within the UK's 'area of interest'. The Royal Navy and Royal Air Force will remain alert and ready to intercept any non-Nato forces in the area."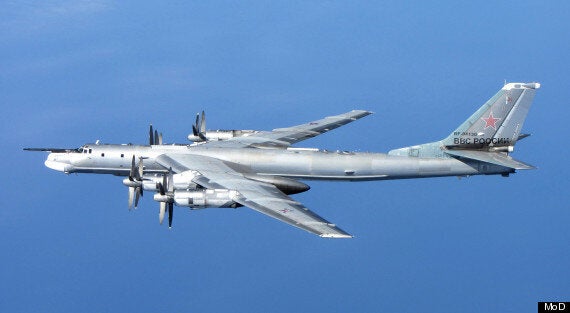 A Russian Tu-95 Bear 'H' photographed from a RAF Typhoon Quick Reaction Aircraft
More from the Press Association:
Wednesday's operation comes after the MoD sanctioned a naval vessel to meet up with a Russian ship as it came close to UK waters last week. A defence spokesman confirmed that as part of separate and routine activity, HMS Dragon, the Royal Navy's fleet-ready escort, sailed from Portsmouth on Good Friday to meet up with a Russian ship, the Vice Admiral Kulakov, which is transiting past the UK.
The spokesman said: "In what is a well established and standard response, the powerful Royal Navy Type 45 destroyer met its Russian counterpart and is now keeping an eye on its transit south."