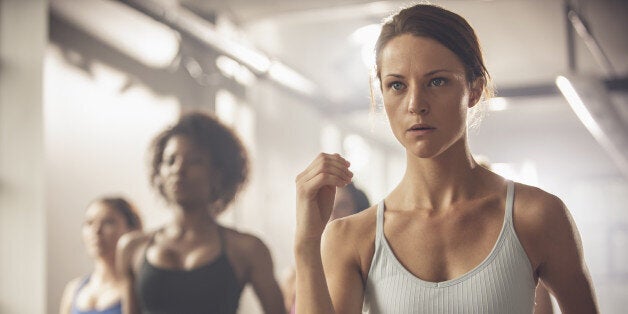 If you're looking to unplug and recharge after a long day at work, it turns out the gym may not be ideal sanctuary you were after.
According to new research by Bodybuilding Warehouse, it's nowhere near as idealistic. Working out at the gym has come out as the number one situation where Brits feel the most self-conscious.
Despite the fancy marble floor at the reception, your gold membership card and the smell of freshly-washed towels, the most feared public place is the gym, where people experience social anxiety once every 30 minutes spent there.
Some of us worry about what we put on our backs, whether we've got enough or too much makeup on or if our workout gear was featured in the most recent Women's Health, while others worry about awkward grunts or sweat patches.
If you're one of these people, fear not, we've got you the ultimate guide to get that chin up and work out without a care in the world at your own pace, de-stress and feel great like you deserve to.
It's easy if you're a newcomer to the gym – to feel that the whole gym is looking at you, and to feel embarrassed if you aren't using the gym equipment properly.
Truthfully, fellow gym-goers are more concerned with their own workout, and won't be judging you like you think they are. The best thing is to concentrate on yourself, and remember you're at the gym to get great results as part of a healthy lifestyle.
2. Get involved in classes
If you do feel self-conscious working out alone, and you aren't comfortable with using the equipment, then take part in the various classes and training help that is available as part of your membership. Working out as part of a group, and with an instructor to help, can really help you feel like you've exercising correctly and increase your motivation.
If you're concerned about what you look like at the gym, then it may be a good idea to invest in some suitable gym wear. Feeling confident when at the gym, can make the difference, and will ensure that you're working out to the best of your ability.
If sweating is something you're particularly uncomfortable with – there are plenty of ranges that is made of high-performance fabric, which moves sweat away from the fabric surface, ensuring there's one less thing to worry about when working out.
Each gym will have a range of personal trainers on offer, and some even offer a free session. This can be a great way to get to grips with gym equipment you might not be used to, or provide you with extra advice and guidance on equipment that you frequently use. If you feel like you know your way round the gym, you're less likely to feel self-conscious there.
Sometimes we go to them gym with no real goals set in place, and this can then mean walking aimlessly from the cross trainer to the rowing machine. If you make sure you set clear goals for your gym sessions – you might feel more confident when going to the gym, and more pleased with the progress you make.