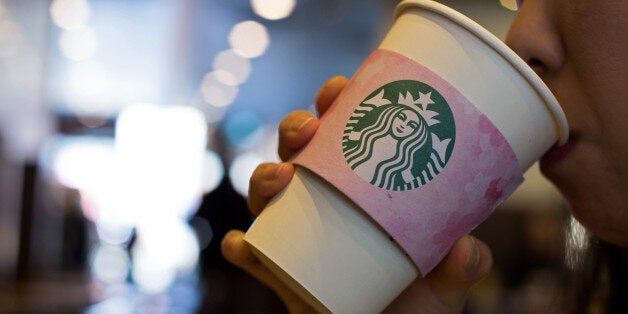 Starbucks reported its first ever fall in UK sales last year, during a period when it was hit by a customer boycott over its tax payments.
The US-owned coffee shop chain had seen 16 years of strong growth in Britain but accounts for the year to October 2013 showed that turnover fell from £413 million to £399 million.
Starbucks said the fall was the result of the closure of unprofitable outlets. It said gross profits were up 13% and margins rose 22% while overall pre-tax losses narrowed by more than 30% to £20.5 million.
It said the UK business was "moving in the right direction" and this would continue as it reduced costs and leases expired.
"We expect the business to continue to grow as economic growth picks up."
Starbucks had 731 UK stores at the end of the period, a number which has since risen to 735.
It was one of a number of multinationals accused by MPs in 2012 of "immoral" behaviour over the way they structured their corporate affairs. It was claimed that Starbucks was "exporting" profits to lower tax jurisdictions.
Starbucks, Google and Amazon were grilled over how they managed to pay little or no corporation tax on their large UK operations.
The coffee chain's global finance director Troy Alstead was told that claims it was continually making losses in Britain did not "ring true".
He was pressed over an arrangement in which a chunk of UK branch profits was transferred to the Netherlands as a dividend, meaning there is no profit to declare, as well as a mark-up on coffee bought via low-tax Switzerland.
Alstead said: "Respectfully, I can assure you there is no tax avoidance here."
Popular in the Community