Ukip's now infamous poster of an unemployed British builder is actually a picture of a foreign worker, it has been revealed.
Social media users have identified the man in the Ukip poster as Irish actor Dave O'Rourke.
It says he is "currently acting full time and looking to build my portfolio... hard working and fully committed to a role and my character to give the best performance I can deliver."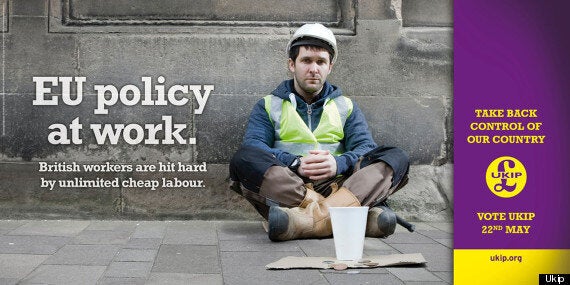 Ukip's poster of an unemployed builder - but is he British, or even a builder?
The Ukip poster shows the 'British' construction worker sitting on the pavement in his hard-hat and hi-vis, with the caption 'EU Policy at Work? British workers are hit hard by unlimited cheap labour'.
Tory MP Bob Neill called the poster "another example of Ukip being cynical and not being straight with the British voters."
Ukip communications director Patrick O'Flynn dismissed the criticism "wilful stupidity" and called the use of actors "totally standard practice.
"It is nonsense for the Conservative Party to try and depict this as anything out of the ordinary," he said. "For example the people depicted in the Conservatives' "You paid the taxes…" campaign under William Hague were actors."
The only difference, he said was "ours is proving popular and successful, while his was followed by a landslide defeat."
The Eurocrat depicted riding in a chauffeur-driven limousine in another poster is "not an actual EU Commissioner but someone acting the part," he added.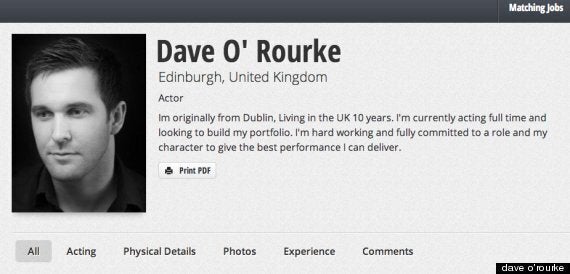 Is this the star of the Ukip ads?
If proven correct, it is the latest in a series of embarrassments for Ukip over their eye-catching media blitz, launched ahead of May's European elections.
Under the slogan "take back control of our country", other posters complain that 75% of British laws are made in Brussels and that UK taxpayers fund the "celebrity lifestyle" of EU bureaucrats.
Tory peer Lord Debden also said the campaign showed "Ukip stands for the worst in human beings: our prejudice, selfishness, and fear".
Mid Sussex MP Nicholas Soames, grandson of Winston Churchill, tweeted: "At a time when our country really needs to come together, the Ukip advertising campaign is deeply divisive, offensive and ignorant."
The second controversy was a picture in Ukip's European election manifesto of Lizzy Vaid, along with her ringing endorsement of the party: "I'll be voting Ukip because they're the only party listening to what people want."
Andre Lampitt, a Ukip member, had warned about Britain having "open gates to Islam". He also used his Twitter account to tell followers: "I don't want my kids learning anything about Islam it's against my HR [human rights]."
He had added: "All Muslims needs to leave Europe America and Oz,or denounce their pathetic satanic religion."
But Ukip have used the picture to illustrate how the party intends to serve [sic] "Justice and equality for victims terrorism".