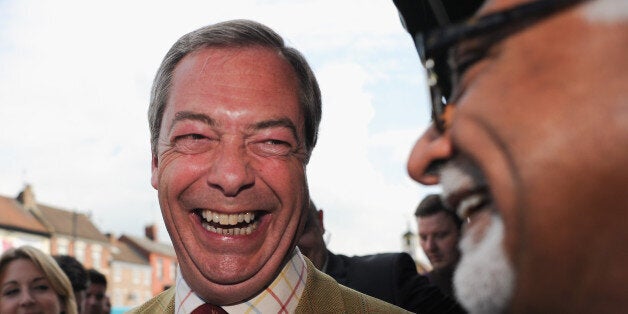 After an Easter break, the Morning Memo is back and here are the five things you need to know on Sunday 27 April 2014...
1) TEFLON FARAGE IS RIDING HIGH
"Will nothing sink Farage?" asks the splash headline on the front of the Independent on Sunday. Inside, the paper explains:
"Despite revelations over the questionable views of his candidates and officials, an on-air grilling about the employment of his German wife and accusations of a "racist" poster campaign, Nigel Farage last week remained on course for one of the greatest upsets in recent political history in next month's European elections. The Ukip leader endured what was one of the toughest weeks of his political career and yet support for his party was sustained. Mr Farage could even come first in the elections in less than four weeks."
The Sunday Times splashes on the headline: "UKIP's surge into lead rocks Tories." The paper reports:
"Tory jitters will be stoked by today's YouGov poll for The Sunday Times on the EU elections, which puts UKIP in the lead for the first time, with the Conservatives trailing a distant third. Despite a week of controversy, Nigel Farage's party has risen to 31%, three points clear of Labour, with the Tories languishing on a lacklustre 19 points. In another blow to the prime minister, the former Tory donor now backing UKIP has indicated he will bankroll the party at the next general election — boosting Farage's chances of winning seats at Westminster for the first time."
And this is all in spite of the latest revelations regarding Ukip's candidates: the Sunday Express says it has "uncovered a host of would-be Ukip councillors expressing extremist views on Twitter, with no sanctions by Ukip. They include William Henwood, standing for Enfield, who describes Islam as a cult and compares it to the Third Reich, and Mark Dobrzanski, Ukip candidate in Ipswich, who says the UK has a "pro Islamic" media." Henwood also said comedian Lenny Henry should go and live in a "black country".
The Independent on Sunday reports that "a former Conservative council leader - who resigned after a scandal over expenses - is to stand for [Ukip] at the next general election. David Parsons, who previously led Leicestershire County Council, denied any wrongdoing but agreed in February this year to pay back nearly £2,400 relating to 26 car journeys that a council report concluded were "not sufficiently connected with his role" and two others that were too short given the waiting time for the driver."
But Farage, it seems, is Teflon. As the lead editorial in the Sunday Times, aptly headlined "Knock 'em down but UKIP keep coming", observes, if David Cameron and the Tories are "relying on UKIP's many flaws to come to his rescue, that looks like wishful thinking. The storm will do more damage before it blows out."
2) STOP THE DITHERING, BOJO
Will he? Won't he? The Observer reports:
"Senior Tories have warned that Boris Johnson's dithering over whether to seek to become an MP in 2015 could dent his political credibility. A significant number of Johnson's colleagues are publicly and privately expressing irritation that the London mayor has refused to quell speculation that he is intent on standing in the next general election... One senior figure on the backbenches is understood this weekend to be contemplating launching a full-blown attack on Johnson's constant prevarication on the issue in order to force him to state his position publicly. Charles Walker MP, the vice-chair of the 1922 committee, also called for Johnson to make a decision quickly. He said: "Boris needs to decide what he is doing. He needs to be decisive."
He's going to have to decide soon and, according to the Sunday Mirror, "is being lined up for one London's wealthiest seats as he weighs up whether to return as an MP at the General Election. Kensington tops the London Mayor's constituency 'wish list', according to a senior Tory, who said it was 'the perfect berth for Boris'."
The constituency MP Sir Malcolm Rifkind, the former foreign secretary, would have to retire, of course, in order to make way for Boris and is said to be waiting for his peerage.
Meanwhile, according to the Mail on Sunday, Johnson has "issued a stinging rebuke to Michael Gove for daring to suggest that he is 'unfit' to succeed David Cameron". The paper revealed last month how a "tipsy" Gove told guests at a recent Rupert-Murdoch-hosted dinner party: "The whole Boris routine will wear thin the electorate very quickly if he became PM. And he can't make tough decisions."
But, asked to respond by Total Politics magazine, the London mayor made it clear that it's the education secretary who isn't the team player - not him: "I'm at one with the vast majority of the population that wants to hear a lot less about what other Conservatives have got to say about each other and much more about what we're going to do to win the Election."
He added: "People want to hear a lot less about my career and anybody else's career, and they want to hear a lot about how we are going to stop Ed Miliband, who would be a disaster."
It could be an awkward week for the prime minister, as even cabinet colleagues of his desert him over the controversial HS2 project - the Sunday Times reports:
"David Cameron is facing a growing Commons rebellion against the £50bn HS2 high-speed rail line, with dozens of Tory MPs preparing to defy their whips over the project's cost and damage to the countryside. Rebel leaders, who include at least two former cabinet ministers, believe that a minimum of 30 backbenchers will vote against the line after a crucial Commons debate tomorrow. Numerous other MPs, including some ministers, are expected to abstain or fail to attend the vote on the second reading of a bill to enable building of the high-speed route between London and Birmingham."
Will Cameron be defeated? Not so, according to the paper: "The government is almost certain to win the late-night vote as it has Labour support, although some of the party's most senior figures, including Ed Balls, the shadow chancellor, and Andy Burnham, the shadow health secretary, are lukewarm."
BECAUSE YOU'VE READ THIS FAR...
Watch this video of a guy working on a Hungarian television show who realises he's been caught live on camera, in the background. It'll make you chuckle.
4) CAN DAVE SURVIVE SCOTTISH INDEPENDENCE?
"Downing Street last night refused to comment on mounting speculation that David Cameron would be forced to resign if Scotland votes for independence in September. While remaining behind in the polls, the Yes campaign has narrowed the gap over recent weeks to four points, and there are fears inside Whitehall that Scottish voters will back independence, triggering a constitutional crisis. In a speech in Bruges tomorrow, Alex Salmond will declare that Scotland makes a significant contribution to the European Union through its 'vast natural resources and human talent' which would be bolstered if the nation won independence. But in response, Danny Alexander, the Chief Secretary to the Treasury, is expected to claim in a speech on Wednesday that the Scottish government has made uncosted policy pledges and 'over-optimistic assumptions' about its oil revenues and energy reserves."
5) 'POST-CHRISTIAN BRITAIN'
Rowan Williams isn't on the same page as David Cameron. From the Sunday Telegraph front page:
"Britain is now a "post-Christian" country, the former archbishop of Canterbury declares today, as research suggests that the majority of Anglicans and Roman Catholics feel afraid to express their beliefs. In an interview with The Sunday Telegraph, Lord Williams of Oystermouth says Britain is no longer 'a nation of believers' and that a further decline in the sway of the Church is likely in the years ahead... His stark assessment comes after David Cameron ignited a national debate over the place of religion in British public life. The Prime Minister urged Christians to be 'more evangelical' about their faith and claimed that Britain should be a more confidently Christian country."
The paper has done a poll of 2,000 people with ICM:
"More than half the public - 56 per cent - regard Britain as a Christian country, a figure that rises to 60 per cent among men and 73 per cent among the over-65s... Overall, 52 per cent of respondents described themselves as either practising or non-practising Christians, while a further five per cent said they belonged to another faith group. Some 41 per cent said they were not religious. In the interview, Lord Williams, now Master of Magdalene College, Cambridge, accepted that Britain's 'cultural memory' was 'quite strongly Christian'. 'But [Britain is] post-Christian in the sense that habitual practice for most of the population is not taken for granted," he said. 'A Christian nation can sound like a nation of committed believers, and we are not that.'"
The Sunday Telegraph report, however, buries this line towards the end: "Some 14 per cent of respondents defined themselves as practising Christians, while a further 38 per cent said they were "non-practising" Christians."
From the Sunday Times/YouGov poll:
That would give Labour a majority of 58.
Nick Cohen, writing in the Observer, says: "Nigel Farage is a phoney. Scrutinise him and he'll crumble."
Matthew D'Ancona, writing in the Sunday Telegraph, says: "Boris Johnson must act fast if he wants the glittering prize."
James Forsyth, writing in the Mail on Sunday, says: "If Ed Miliband can save the Union he might even save himself."
Got something you want to share? Please send any stories/tips/quotes/pix/plugs/gossip to Mehdi Hasan (mehdi.hasan@huffingtonpost.com), Ned Simons (ned.simons@huffingtonpost.com) or Asa Bennett (asa.bennett@huffingtonpost.com). You can also follow us on Twitter: @mehdirhasan, @nedsimons, @asabenn and @huffpostukpol
Related