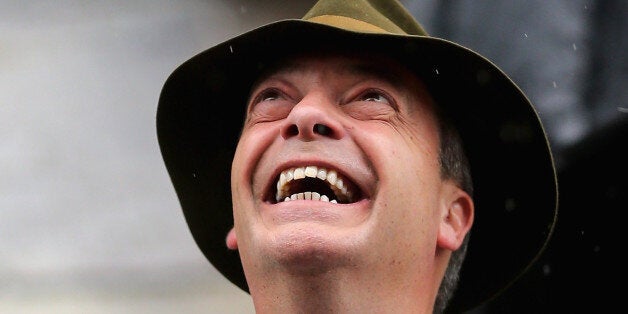 Ukip has surged into the lead in the European election contest despite a bruising week of controversies, according to a poll.
Nigel Farage's party recorded 31% support in YouGov research for the Sunday Times, three points ahead of Labour, with the Tories languishing in third on 19%.
It is the first time the company has given Ukip an outright advantage in the race, with ballots due to be cast in less than a month.
The results are in line with a ComRes poll for the Sunday Mirror and Independent on Sunday last month, which put Ukip on 30%, Labour on 28%, and David Cameron's party on 21%.
The findings suggest Mr Farage has not sustained significant damage from recent furores over his expenses, "racist" posters, criticism of misleading campaign literature, and dubious comments from activists.
Former Tory donor Paul Sykes, said to be worth £650 million, has pledged to plough more money into Ukip after funding one poster campaign.
He told the Sunday Times there would be "at least another two waves" of adverts before the European elections.
"I'm not giving up," he said. "That will warn the Conservatives what is going to happen. We will get more democracy in Britain if it skints me."
The poll, which put the Liberal Democrats on 9% and Greens on 8%, came as another Ukip candidate was facing a backlash after suggesting actor and comedian Lenny Henry should emigrate to a "black country".
William Henwood, who is standing in a council election, made the comment on Twitter in response to a speech by Henry in which he said ethnic minorities were under-represented on British television.
"He should emigrate to a black country. He does not have to live with whites," Henwood posted.
Defending the remark, Henwood told the BBC: "I think if black people come to this country and don't like mixing with white people why are they here? If he (Henry) wants a lot of blacks around go and live in a black country."
Health Secretary Jeremy Hunt told Pienaar's Politics on BBC Radio 5 Live the comments on Lenny Henry were racist.
He said: "I do think those comments about Lenny Henry were absolutely disgusting and I do think it's for Nigel Farage to make absolutely clear that it's not Ukip's official view, but also to explain why so many people with those kinds of view seem to be attracted to becoming candidates for Ukip."
Asked if he thought the comments were racist, Hunt replied: "Yes I do. I think it is and that's why I'd like to hear a very clear denunciation of that from Nigel Farage.
"I think it's totally unacceptable and (Lenny Henry) is as British as you and I are."
Told the comments had been denounced by a Ukip MEP, Hunt added: "Good. I'd really like to see that because I think there is a broader risk for Ukip here because they position themselves as the patriotic party, they plaster the Union Jack all over their leaflets but actually there's something very un-British about this kind of language, very unpleasant.
"We are not a divisive country. We want to be a country - all parts of the political spectrum - where we avoid that kind of rhetoric and I think that's where there are some real dangers for Ukip."
Separate ComRes research for the Electoral Reform Society (ERS) has highlighted disaffection among voters with European institutions.
Some 59% believe the European Parliament does not represent the views of voters, with the number rising to 68% among those aged over 55.
More than half of 18 to 24-year-olds are not planning to cast a ballot next month.
ERS chief executive Katie Ghose said: "This year's European elections are receiving an unusual amount of attention. With Ukip's rising popularity, the TV debates between Nick Clegg and Nigel Farage, and the Conservatives' promise of an in-out referendum, European politics has seldom been so prominent.
"And yet these results show that people still feel alarmingly distant from European affairs. We already know that nearly three-quarters of Britons feel their voice doesn't count in the EU and it looks like the problem is getting worse, not better. It's time to tackle the growing disconnect between the British people and European politics."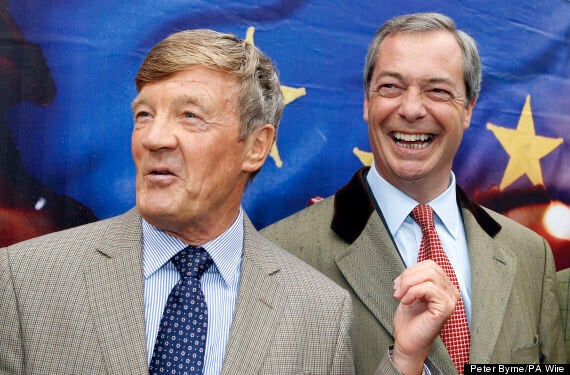 Multimillionaire donor Paul Sykes is bankrolling Ukip's European election poster campaign
Ukip deputy chairman Neil Hamilton, a former Tory MP, said the comments on Lenny Henry were a "complete distraction" from the European election campaign, adding Mr Henwood's case would be investigated.
He told Pienaar's Politics: "This is a council candidate whom you would have never have heard but for all the social media archaeologists that are employed by Labour, the Liberal party and the Tories to try and track down any unknown Ukip member or activist who may have said something unpleasant on social media.
"Every party has got them. We have strict rules on racism. We don't allow it. We're the only party that doesn't allow ex-BNP or National Front members to be candidates and we have strict rules on social media.
"I know because I helped to devise them.
"This man's case will be investigated."
Conservative backbencher David Ruffley insisted the Tories could learn from the polls that they need to promote their general election pledge to hold an in/out referendum on Britain's membership of the European Union.
The MP for Bury St Edmunds told the BBC: "I've knocked on a few doors and not many people know that the Tories, we, are the only party promising an in/out referendum.
"So what we need to do in the next 12 months is to demonstrate very clearly that David Cameron has made this pledge of in/out.
"The fact is not enough people understand it. We in Westminster think it's an absolutely bog standard bit of the political landscape.
"The punters don't realise it."
Related