An Egyptian judge has sentenced 683 people to death in mass trial, including the Muslim Brotherhood's spiritual leader.
The ruling is linked to the violent riots that swept the country last August, when hundreds were killed as Egyptian security forces broke up sit-ins by Brotherhood supporters of ousted President Mohammed Morsi.
Those condemned today include Muslim Brotherhood leader Mohamed Badie, Al Jazeera reported.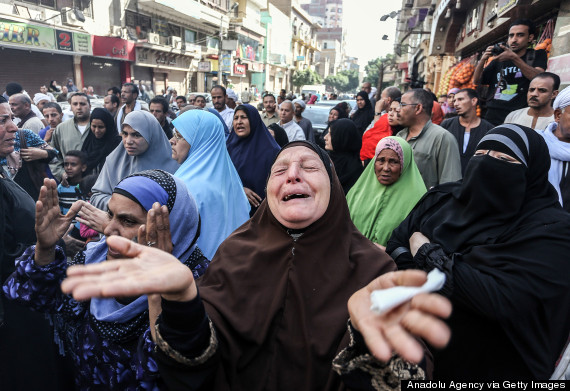 Protests outside the n courtroom where 683 people were sentenced to death in mass trial
Several female relatives waiting outside Minya Criminal Court are said to have fainted after hearing the verdict.
Heba Abdelrahem, a relative of two defendants, told AFP: "My husband Mohamed Hassan, is a French teacher and his brother Yussef Hassan, is a school superintendent.
"I swear both are innocent and we have evidence that neither one were near the police station the day of the Rabaa crackdown. This death sentence is unjust."
Defence lawyer Ahmed Hefni told reporters outside the court that the death sentences now will be submitted for the approval of Egypt's mufti, the highest religious authority, but his decision is not legally binding, Sky News reported.
In March, the same judge sentenced the 529 defendants to death in just two sessions. Today, death sentences for 37 of those 529 Brotherhood supporters were finalised, the court heard.
The remaining defendants had their sentences commuted life in prison, AFP reported.