A stunt which saw a millionaire poker player hurl a naked porn star off the roof of his mansion has resulted in bruised egos, broken bones and the unmistakable whiff of legal action.
Dan Bilzerian was doing a shoot with Hustler magazine last week when he was filmed picking up Janice Griffith and tossing her into the pool, TMZ reports.
Seriously, who could have predicted something like that would have gone wrong?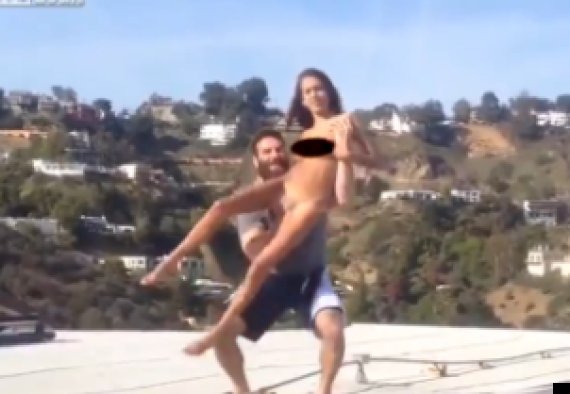 Thar she goes: Dan Bilzerian hurls Janice Griffith off the roof of his Hollywood Hills mansion
Griffith is seen plummeting head first over the edge and mercifully made it into the pool – but broke her foot on her way down.
SEE ALSO: Model Suing Playboy Over Botched Golf Tee Stunt Reveals Horrendous Bruise (GRAPHIC IMAGE)
TMZ interviewed Griffith after the accident and the 18-year-old informed the channel she won't be able to work for several weeks – something she has mentioned several times on her Twitter account.
I broke my foot today.

— Janice Griffith (@thejanicexxx) April 24, 2014
More than anything I'm still bummed I had to cancel shooting for @kinkdotcom yesterday.

— Janice Griffith (@thejanicexxx) April 25, 2014
I just want to get back to work... that's my only concern. Anyone trying to book a gal with a broken foot?

— Janice Griffith (@thejanicexxx) April 25, 2014
She also complained Bilzerian has not yet apologised to her and appeared to be hinting at legal action.
Despite being out-of-action for now, Griffith is still free to chat – for the princely sum of $6.35 a minute.
Bilzerian, by the way made his fortune playing poker, and is known as the Instagram Playboy for his penchant of posting pictures of himself surrounded by naked women. And guns.