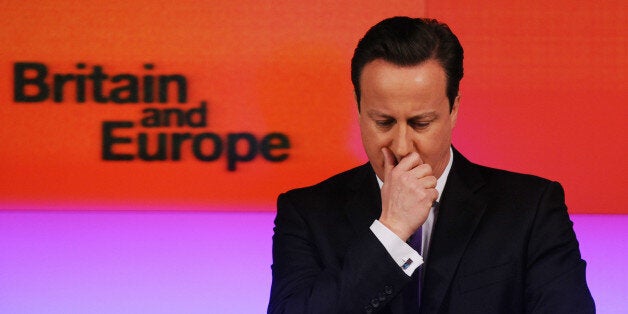 Here are the five things you need to know on Tuesday 29 April 2014...
You'll remember how David Cameron's 'cast-iron' pledge, while in opposition, to hold a referendum on the Lisbon Treaty turned out to be not-so-cast-iron in government. So Dave is now going all out to convince eurosceptic voters that he can be trusted to deliver his 2017 in/out referendum on EU membership. Last night, in a conference call with Tory members, he made a pretty serious promise - from the Daily Mail:
"David Cameron has suggested he would resign if he fails to deliver his pledge to hold a referendum on Britain's membership after the next general election. He accepted voters were 'sceptical' about his promise but insisted: 'I would not continue as Prime Minister unless it can be absolutely guaranteed this referendum will go ahead on an in-out basis.' Mr Cameron last night also made clear that a referendum is a 'deal breaker' in any future coalition negotiations - insisting it could not be ditched if he were to fail to win an outright majority and seek a new power-sharing deal with Nick Clegg. 'This is a guaranteed part of our plan... I can't make it any clearer than that,' he said. 'This is a totally key part of our plan.'
Meanwhile, on the subject of Europe, it's worth pointing out that Ukip's critics are ramping up their attacks on the controversial party - from the Guardian:
"The first cross-party campaign to condemn Nigel Farage's party as racist is to be launched this week amid fresh polls showing Ukip may come first across England in the European elections in May. The campaign is led by the former Labour immigration minister Barbara Roche, who claimed: 'Ukip's campaign needs to be exposed for what it is, a racist campaign. The party is practising what is in effect a form of 'Euracism'. They are deploying the same language and tactics used by openly racist parties like the BNP, but instead of targeting migrants from Africa and Asia they are targeting migrants from within the EU.'"
2) CAMERON ATTACKS CAMERON
Dave's brother, meanwhile, is on the warpath over domestic policy. From the Telegraph:
"The brother of David Cameron claimed a major fraud trial should be thrown out of court because of a lack of competent barristers after legal aid reforms introduced by his sibling's government. Alex Cameron QC, who is representing seven defendants free of charge in a fraud case, argues that his clients could not find legal aid barristers 'of sufficient competence'. Mr Cameron said the issue was part of a far wider problem, with a 'finite resource' of Queen's Counsel, outweighed by high demand, and many independent barristers unwilling to work under current legal aid rates... Mr Cameron said he was concerned with the broader implications of the issue. 'We do attribute the fault to the state more widely,' he said."
3) JOHNSON IS JEALOUS OF JOHNSON
It isn't just Cameron who has sibling issues - so, too, does Boris. From the Times:
"Boris Johnson's status as the favourite to succeed David Cameron and his tenure as London mayor have not stopped him suffering from a bad bout of sibling jealousy, he has revealed. Mr Johnson has admitted that while he is proud of the achievements of his younger brother Jo, who was given a senior post in No 10 last year, he conceded that he could not help but feel envious of his rise. 'I rejoice in his success,' the mayor said. 'A little piece of me dies, but otherwise I rejoice in his success.' Jo Johnson, who was elected to the safe London seat of Orpington at the last election, was made the head of Mr Cameron's policy unit after emerging as one of the brightest MPs of the new intake. Some in Westminster now see him as a future prime minister."
Boris was speaking to Total Politics magazine. In the interview, he also claimed that London's success as a global city was partly due to the fact that Londoners have a lot of sex - from the Huffington Post UK:
"The mayor told Total Politics magazine that the capital was now 'producing more babies than at any time since England won the World Cup in 1966'. 'A city is a huge centrifuge, it spins people round at much greater velocity than anywhere else,' he said. 'People meet each other, they have more sexual intercourse as Michael Gove is continually pointing out. One of the reasons cities are so successful is that they provide a huge assortment of potential mates - in business and pleasure.'"
BECAUSE YOU'VE READ THIS FAR...
Watch 'I Say Lies' - Cassetteboy's very funny video mashup of Tony Blair's Bloomberg speech on Islamist extremism.
4) HERE COMES HIGH SPEED RAIL
Cameron, however, will have breathed a sigh of relief last night - from the BBC:
"MPs have rejected calls for the proposed HS2 rail link between London and the West Midlands to be scrapped, despite a Tory rebellion. MPs threw out a proposal by ex-minister Cheryl Gillan for the plan to be halted by 451 votes to 50, a majority of 401... A total of 35 Tories rebelled against the government, while a total of 47 Tories missed the vote or abstained."
What happened to all those HS2 sceptics who have government jobs?
"A number of ministers whose constituencies lie on the proposed route - including Europe Minister David Lidington and Attorney General Dominic Grieve - were given permission to miss Monday's vote. And recently appointed Treasury minister Andrea Leadsom, who has spoken out against the project in the past, is in Brussels and was not present in the Commons."
Ed Miliband really wants to debate David Cameron on telly. From the Independent:
"Ed Miliband has accused David Cameron of sabotaging televised debates between the three main party leaders at next year's general election because he knows the Conservatives will be able to outspend Labour on campaigning. Mr Miliband said the Conservatives had 'stalled at every opportunity' in discussions on whether to repeat the TV debates held for the first time in Britain at the 2010 election. Writing in the Radio Times, the Labour leader said: 'I can only assume that Mr Cameron wants his party's deep pockets to be used for maximum advantage and that perceived political self-interest lies behind his party's reluctance to get these debates on.'"
Miliband has appointed shadow cabinet minister Michael Dugher and key aide Greg Beales to negotiate with the broadcasters. Labour says it will stick, at the outset of the negotiations, to a 3-3-3 (three panellists, three debates) approach, on the same lines as last time. So, what'll happen to Nigel Farage's proposed participation?
From the Sun/YouGov poll:
That would give Labour a majority of 58.
Rachel Sylvester, writing in the Times, says: "The super-rich could win political gold for Ed."
Steve Richards, writing in the Independent, says: "It would help the Tories to lose the 2015 general election."
Benedict Brogan, writing in the Telegraph, says: "Cameron must set himself against the spirit of the age."
Got something you want to share? Please send any stories/tips/quotes/pix/plugs/gossip to Mehdi Hasan (mehdi.hasan@huffingtonpost.com), Ned Simons (ned.simons@huffingtonpost.com) or Asa Bennett (asa.bennett@huffingtonpost.com). You can also follow us on Twitter: @mehdirhasan, @nedsimons, @asabenn and @huffpostukpol