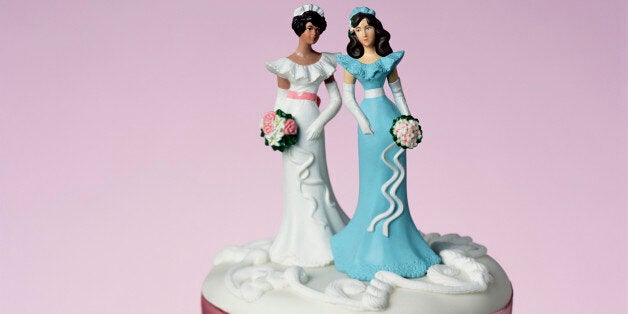 A controversial proposal to extend same sex marriage legislation to Northern Ireland is set to be defeated in a Stormont vote today.
The Democratic Unionists have tabled a contentious voting mechanism ahead of the debate on a Sinn Fein motion to change marriage laws in the region, meaning it could only pass if a majority of both unionists and nationalists support it.
With the DUP holding the most seats on the unionist side of the house, the party's decision to table a petition of concern means the move to replicate legislation already introduced elsewhere in the UK is doomed to fall.
Supporters of gay marriage held protests in Belfast and Londonderry last night to object to the use of a petition on such an issue.
The voting mechanism was incorporated into Assembly structures during the peace process to protect minority views.
But DUP MLA Peter Weir stood by the move, saying: "The DUP as a party support the traditional definition of marriage as one man and one woman, and we will use whatever parliamentary devices we have at our disposal to make sure that remains the case - so we make no apology in taking a strong stand to defend marriage."
The first gay marriages took place in England and Wales last month. Scotland passed a similar law in February and the first same-sex marriages are expected there in October.
In Northern Ireland, with a greater proportion of Catholic and Protestant churchgoers than other parts of the UK and arguably a more conservative social culture, any change to the law would prove highly controversial.
A referendum on the issue is likely to be held in the Republic of Ireland next year.
Sinn Fein Assembly member Caitriona Ruane said other jurisdictions were moving forward to ensure marriage equality for all.
"The North should not be left behind," she said.
"Giving all couples equal marriage rights under the law does not threaten anyone's beliefs, religious or otherwise. Churches are free to define marriage as they wish but the state has a duty to treat all citizens equally."
Yesterday, Catholic bishops urged politicians to reject "marriage equality" for same-sex partnerships in Northern Ireland while the Church of Ireland restated its opposition to any change to the traditional definition of marriage.
The Stormont Assembly motion tabled by Sinn Fein will call on the DUP Minister of Finance and Personnel, Simon Hamilton, to introduce legislation to guarantee that couples of any sex or gender identity receive equal benefit.
The motion also states that religious institutions should have the freedom to decide whether to conduct same-sex marriages.
Related