Simon Cowell has been a client of Max Clifford's for many years, but is "horrified' by the PR man's conviction
The Sun reports an insider of Simon's management company Syco confirming, "Simon is horrified by what's happened and is no longer represented by Max.
"They've worked together for years but that's all ended now.
"He's distancing himself from Max and his office."
"I told Simon, this would happen if he spoke to Tom Bower," Max Clifford told us at the time. "But he went and spoke to him, based on Bernie Ecclestone's recommendation, and this is what happens… "
"I've seen lives ruined, people destroyed by the things they've had said about them... I've turned down so many jobs. Either because I didn't agree with what they were doing, or I just didn't like them."

Max Clifford talks to HuffPostUK about his moral code... READ the full interview here.
As close associates, both Simon Cowell and Max Clifford were frequent visitors to the children's hospice, Shooting Star Chase, for which the PR guru has been a longtime patron.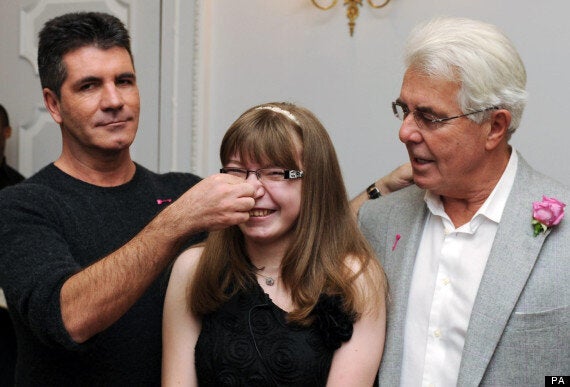 Simon Cowell and Max Clifford at a tea party in aid of the Shooting Stars Chase charity last year
Yesterday, the charity confirmed that it, too, was dropping him, and stressed that he had never been allowed unsupervised access to the children cared for within its grounds.
A spokesman said: "In light of Mr Clifford being found guilty of indecent assault, Shooting Star Chase can confirm that he is no longer a patron of the charity."
Max Clifford pleaded not guilty to eleven original charges, but was convicted yesterday on eight of them.
For the first time in many years, the man who made millions from working out how best to spin a story, had nothing to say to the waiting media. He told them his lawyers had advised him to keep quiet.
Yesterday, the 71-year-old became the first person to be convicted under the high profile Operation Yewtree sex crime investigation at Southwark Crown Court.
He was found guilty of eight indecent assaults, cleared of two and the jury was unable to reach a verdict on one other.
Clifford repeatedly denied the claims, calling his arrest and prosecution "a nightmare" and protesting his innocence.
He was arrested by detectives from Operation Yewtree in December 2012, and charged in April the following year.