A woman has been winched up by a helicopter after falling around 20 to 30ft between two turrets of a cathedral.
The casualty, who is thought to be in her 60s, is believed to have been on a tour of Wells Cathedral in Somerset when she fell shortly after midday on Tuesday.
An Avon and Somerset Police spokeswoman said a helicopter from RAF Kinloss in the north of Scotland airlifted the woman to Frenchay Hospital in Bristol with what are believed to be arm and pelvic injuries.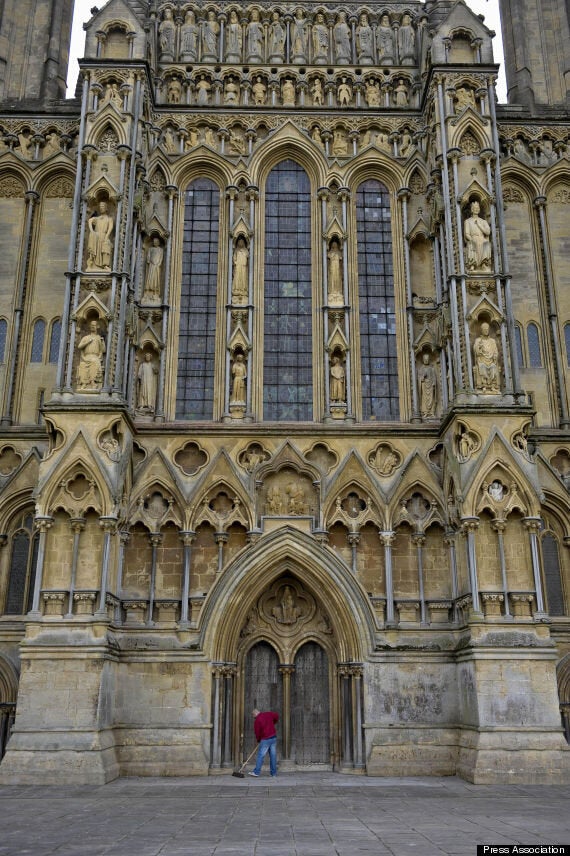 The woman fell between two turrets of Wells Cathedral
Devon and Somerset Fire and Rescue said fire engines from Wells, Shepton Mallet, Bridgwater and Street were sent to the scene and worked alongside paramedics and a doctor.
A spokesman for Wells Cathedral said the 68-year-old woman was part of a tour group of around a dozen, accompanied by two guides.
"The emergency services did a fantastic job," he said. "She fell inside the cathedral but they took her out through the top of the roof."
He said he did not have any further information about how the incident happened and an investigation would take place.
A spokesman for South Western Ambulance Service said the woman was trapped in a void between two walls 150ft up inside the bell tower.
She was given pain relief and its hazardous area response team worked with the fire crews to winch her up to a platform for assessment before she was then taken to the roof of the cathedral from where she was winched into the helicopter.
She is suspected to have broken wrists, a broken pelvis and abdominal injuries, the spokesman said.
Wells Cathedral later confirmed in a statement that the woman fell during a high parts tour.
The statement said: "A group of 12 adults were undertaking the final stage of a standard Cathedral high parts tour. While the group was undertaking a briefing within this space, an incident occurred to one of the party members.
"The cathedral's emergency procedure was immediately put into operation.
"No details are yet available as to how the incident occurred but all further high parts tours and cathedral tower tours are cancelled until further notice while a review of the incident takes place."