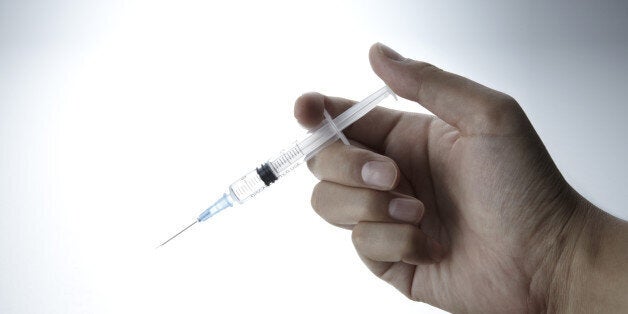 More than 600 students are facing an agonising wait to find out if they have been infected with HIV, hepatitis C or hepatitis B after a healthcare worker reused syringes.
The students at Derby University were sent a letter asking them to go to their GP or a hospital for a blood test, where they found out about the "errors", which happened during vaccinations and blood tests between 2005 and 2013.
Alix Brookes, a 24-year-old nurse told the Derby Telegraph: "I'm disgusted because this university taught me to follow correct policies and procedures but their own staff did not. I feel really angry.
"Most of the stuff I had done blood-test-wise was near the start of my course. That was six years ago. Why are we only being told now?"
Health experts stressed the risk was "extremely low" but the university's vice chancellor slammed the blunders as "appalling".
"It's unacceptable that these students are in this position because these procedures are actually meant to keep them safe before going into their placements.
"I don't think anyone can comprehend the degree of anxiety this could cause our students and that's why we want to get everyone to see their GP as quickly as possible.
"Blood tests and vaccinations are very often carried out on a one-to-one basis but this came to light because, on one occasion, there was a co-worker present and they observed potentially unsafe practice.
"They raised concerns about it and we ceased the procedures of this healthcare worker immediately.
"It's profoundly disappointing because we did everything very assiduously when it came to contracting this service and we feel we have been let down."
Dr Doug Black, medical director for NHS England Derbyshire and Nottinghamshire, said: "It is understood that, while syringe needles were always changed between patients, the syringe barrels to which the needles attach were being reused in the administration of vaccinations.
"This also occurred during blood-taking, where a single-use holder for a blood collection tube was reused but needles changed.
"Therefore, there is an extremely low possibility these errors may have put people at risk of infection from hepatitis B, hepatitis C or HIV.
"I would however like to stress that the risk is extremely low and would encourage all those we contact, who may not already have been screened after their time at the university, to present themselves for blood testing."
Anyone who has received a letter can call the advice line on 03330 142479 seven days a week from 8am-8pm – except the May bank holiday weekend, from 10am-4pm.