Jeremy Clarkson's claim that he has NOT used the n-word may come back to haunt him with the footage of the alleged incident being released.
The controversial presenter and broadcaster has furiously denied using the racist slur during a segment filmed for 'Top Gear'.
WATCH the footage above and decide for yourself... did he say it?
As he chooses between two cars, footage clearly shows Clarkson chanting the racist rhyme 'Eeny, meeny, miny, moe…", before mumbling under his breath, "Catch a n***** by his toe."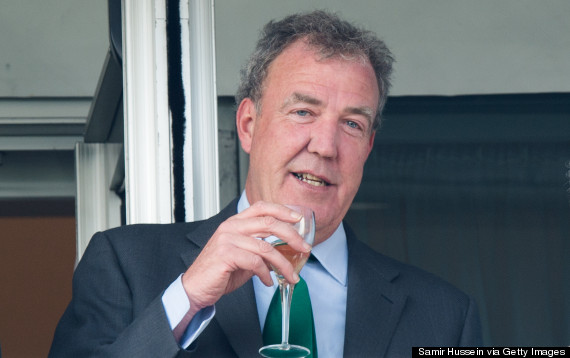 Jeremy Clarkson
An audio forensic expert reportedly confirmed to the Mirror that Clarkson had used a racial slur in the scene, which was filmed for the third episode of 'Top Gear's 19th season but never used.
But the TV star has furiously denied the allegations on Twitter, tweeting: "I did not use the n word. Never use it. The Mirror has gone way too far this time."
I did not use the n word. Never use it. The Mirror has gone way too far this time.

— Jeremy Clarkson (@JeremyClarkson) May 1, 2014
Legal experts said that the language used by the 54-year-old could be in breach of the law in some cases.
Solicitor Lucy Scott Moncrieff told The Mirror: "It is all about context. If there was a crew member who was distressed by it, then there could well have been a breach of equality legislation."
Fellow lawyer Lawrence Davies blasted: "Clarkson has to be sacked, no matter how much money he makes for the BBC. Use of that word is not acceptable."
It's not the first time the presenter has been at the centre of a racism controversy. Last month he faced accusations of racism from Twitter users after he named his new pet - a small black dog - 'Didier Dogba' after the former Chelsea footballer Didier Drogba.
And just weeks earlier the BBC faced a potential £1 million lawsuit after Jeremy Clarkson allegedly used a racist term to describe a Thai person.
The 'Top Gear' presenter is accused of using the term "slope" during the filming of the programmes two-part Burma special, a derogatory term for people of Asian descent.
LIKE US ON FACEBOOK | FOLLOW US ON TWITTER