Madeleine McCann's mother has spoken out ahead of the seventh anniversary of her daughter's disappearance, insisting: "I just want to know if she's alive or dead".
Speaking to publicise the revamped Child Rescue Alerts system, which triggers when children are kidnapped or their lives are put at risk, Kate McCann told The Sun how: "The worst thing is not knowing."
She added: "We obviously want Madeleine back number one – but we do want an answer, whatever. Madeleine McCann has been missing since 2007
"I have spent days thinking, 'What would you rather? Not know, or find out something you didn't want to hear?'
"Obviously our ultimate hope is that we find Madeleine and she comes home and we re-establish her into our family and spend the next few years of her life getting it all as good as it can be."
Madeleine, who was then nearly four, disappeared from her family's holiday apartment in Praia da Luz in Portugal's Algarve on May 3 2007, as her parents dined at a nearby tapas restaurant with friends. Kate and Gerry McCann insist they will never give up the search for their daughter
The new alerts system, which is due to be overhauled later this month, will allow notifications to be issued via text, social media, digital billboards and to the media.
Members of the public can already sign up to receive alerts, although the new system will come into play on International Missing Children's Day on May 25.
A Child Rescue Alert was recently used in the hunt for murdered five-year-old April Jones, and the system is designed to make the most of the "golden hours" when a child goes missing.
SEE ALSO:
McCann added: "When a child is abducted, families are devastated and entire communities are torn apart. The agony of not knowing where your child is is almost impossible to imagine. The helplessness is at times overwhelming.
"But there is now something we can all do to help. Please sign up to receive alerts - you could save a child's life."
There have been numerous reported sightings of Madeleine through the world. In 2007 photos of a blonde child being carried in a sling by a woman in Morocco prompted excited speculation she had been found.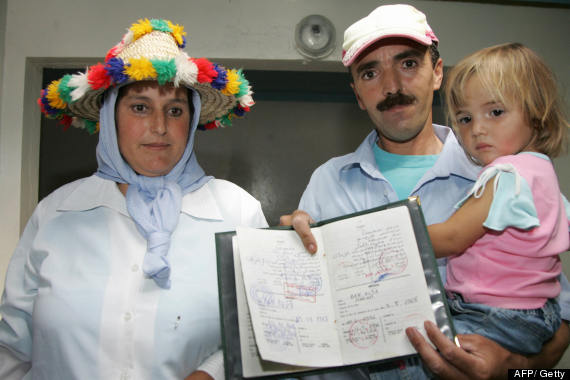 Bushra Binhisa - who was mistaken for Madeleine - with her parents and her family's registration certificate
It soon emerged the little girl - named Bushra Binhisa - was the daughter of an olive farmer of Berber extraction.
In 2013 a British woman spotted a youngster "bearing a remarkable likeness to Madeleine" at a market in the northern Indian town of Leh.
There have also been reported sightings in Portugal, Belgium and France, but none have produced any firm leads.
In February last year a DNA sample from a young girl in New Zealand who had been mistaken for the missing child was sent to Scotland Yard.
It was later confirmed the voluntarily provided sample did not provide a match.
Earlier this month it was revealed British detectives were poised to begin staging operations on Portuguese soil.
The Metropolitan Police Service continues to offer a reward of up to £20,000 for information leading to the identification, arrest and prosecution of the person(s) responsible for the abduction.