Manchester United have indefinitely banned a supporter for being caught with a can of lager whilst entering a stadium.
Jamie Bazley was given a police caution after he was found with an unopened can of Stella Artois in his bag at the St James' Park turnstiles when United won 4-0 at Newcastle United last month.
Bazley claimed it was a mistake, and thought he had drunk the can on the train journey up to Tyneside, but United wrote a stern letter informing him of his ban, but have not stopped him from renewing his season ticket.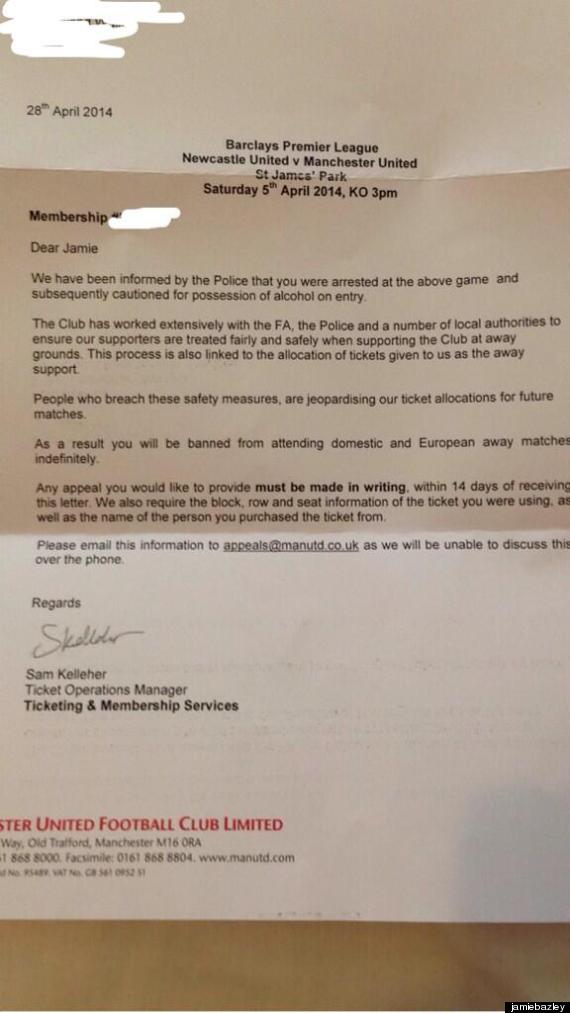 The letter addressed to Brazley has outraged United fans
"This is how a club treats you after spending all your money following them?? They can get to fuck now. #Cunts," he wrote on Twitter.
"They still let me renew my season ticket though won't they…sick of them treating fans like idiots," he wrote in reply to another user.
United's ticket operations manager Sam Kelleher said, in the letter addressed to Bazley:
"We have been informed by the Police that you were arrested at the above game and subsequently cautioned for possession of alcohol on entry.

"The club has worked extensively with the FA, the Police and a number of local authorities to ensure our supporters are treated fairly and safely when supporting the Club at away grounds. This process is also linked to the allocation of tickets given to us as the away support.

"People who breach these safety measures are jeopardising our ticket allocations for future matches.

"As a result you will be banned from attending domestic and European away matches indefinitely."
United's treatment of supporters has been heavily criticised in recent years, most recently the proposal of a singing section in Old Trafford's J Stand, which will force seasoned matchgoers out of their seats.