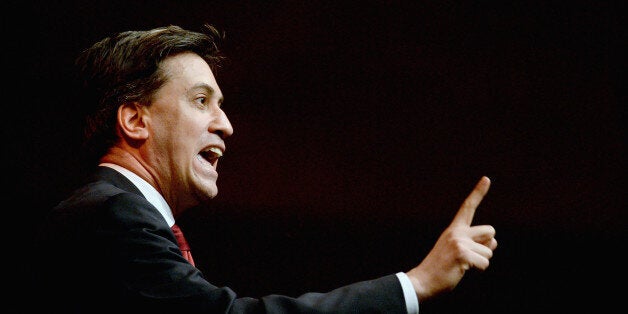 Here are the five things you need to know on Thursday 1 May 2014...
1) MILIBAND'S WOOS 'GENERATION RENT'
It could be the Labour leader's biggest announcement on domestic policy since he unveiled his agenda-setting freeze on energy prices in late 2013 - and it could help Labour win the votes of up to nine million people. The Sun has the details:
"Rent rises would be capped by a Labour government, Ed Miliband will say today. And tenancy agreements would last three years, rather than the current six-month average. The amount private landlords could increase rents would be limited. Agents would also be barred from charging one-off fees at the start of a lease, which could save tenants up to £500. Mr Miliband — last night accused of more economic meddling — will unveil 'Labour's fair deal for rented housing in Britain' at the launch of its European election campaign in Essex this morning. It is the party's latest assault on the so-called "cost of living crisis" and follows their plans to freeze energy prices."
As the FT puts it, "private landlords are the latest 'vested interest' to be targeted by the Labour party.. the announcement comes amid a historic shift in Britain away from home ownership and social housing towards private rented property with 4m households living in the sector."
The Tory/right-wing response, as with the energy price announcement, has been predictably hysterial and over the top - the Telegraph reports: "The Conservatives said the policy had been tried unsuccessfully by Socialist governments in Venezuela and Vietnam, and would result in low quality accommodation and fewer homes being rented out."
Yet as the New Statesman's George Eaton reports: "Labour sources are pointing out, in Ireland, where longer-term tenancies and predictable rents were recently introduced, the private sector has grown, not shrunk. Forget Venezuela, Germany, New York, France and Spain all benefit from imposing limits on the market."
The Mirror's editorial line is pretty clear: "Capping rent rises and improving the security of private tenants is a surefire vote winner for Ed Miliband. The free-for-all unleashed by Margaret Thatcher has proved to be a charter for greedy landlords and an expensive disaster for taxpayers as the Housing Benefit bill soared."
Both the Mail and the Telegraph splash on the arrest of Gerry Adams - the Mail reports:
"Sinn Fein leader Gerry Adams was sensationally arrested last night over the murder of a widowed mother of ten who was abducted from her home during the Troubles more than 40 years ago. The 65-year-old, who for decades has dodged difficult questions about his alleged terrorist past, was detained overnight by detectives investigating the murder of Jean McConville - abducted and killed by the Provisional IRA in 1972 and later buried on a beach in the Republic of Ireland. She is one of Northern Ireland's Disappeared - those who were abducted, murdered and secretly buried by republicans during the Troubles... His arrest – confirmed by police and Sinn Fein – could jeopardise peace in Ulster, with hardline Republicans said to be already plotting major atrocities... In a statement last night, Adams again rejected what he called the 'malicious allegations' that he was responsible for her murder. 'While I have never disassociated myself from the IRA and I never will, I am innocent of any part in the abduction, killing or burial of Mrs McConville,' he added."
Is there anything that'll burst Nigel Farage's bubble? Undermine his momentum? The Guardian reports on the latest Ukip controversy:
"Nigel Farage faced fresh embarrassment last night over the controversial views of Ukip supporters, when a former donor said on television that a woman could not be raped by her husband. Demetri Marchessini, the party's sixth-largest individual donor in 2013, also said that gay men experience 'no love, only lust'. He first caused controversy a year ago, when he said women should not wear trousers. Ukip appeared to be thrown into confusion after Marchessini told Channel 4 News he had made a £5,000 donation to the party in December, despite the party claiming it had severed its links with the millionaire."
Yet, according to a ComRes/ITV poll released yesterday, Ukip is riding high in the run-up to the European parliament elections - 38% of voters say they plan to back the party on 22 May, which is an increase of 8 points in three weeks.
BECAUSE YOU'VE READ THIS FAR...
With Jeremy Paxman announcing he's quitting Newsnight, - watch his top 10 moments, in video clips, from his skewering of Chloe Smith and Michael Howard to is scorn for the weather. Goodbye Paxo!
That's the splash headline on the front of the Independent:
"Pressure on the Government over the botched Royal Mail sell-off intensified last night as more hedge funds were unmasked as key investors in the flotation and the chairman of a committee of MPs condemned the 'corporate masonic lodge' that profited at the expense of taxpayers. After resisting months of pressure to name the 16 priority investors who were allowed to buy a 22 per cent stake in Royal Mail ahead of the public, the Business Secretary Vince Cable finally buckled yesterday. The list - which is highly embarrassing to Mr Cable - reveals the Government's preferred investors included some of the most aggressive hedge funds in the world as well as investment firms which had close links to the financial institutions paid by the Department for Business to advise them on the sale. The equity arm of Lazard, the department's key adviser on the sale, was among those given 'priority' status reserved for long-term investors. However, as the shares rocketed, Lazard Asset Management sold its entire stake within a week at a profit of £8m. It was able to turn such a huge profit because priority investors were given extra allocations of shares - in Lazard's case worth £19.8m."
We're all in this together, eh?
"Controversial Toronto Mayor Rob Ford is to take a leave of absence to seek help for substance abuse, his lawyer says. Dennis Morris said his client acknowledged he had an abuse problem and wanted to do something about it. Mr Ford, who is seeking re-election in October, has been stripped of many of his powers after admitting using and purchasing illegal drugs while mayor. He admitted last year to smoking crack cocaine in a 'drunken stupor'... Videos have emerged in recent months showing him ranting obscenely in an apparently intoxicated state. Allegations have also surfaced in police documents that Mr Ford used racially abusive language, threatened staff, sexually propositioned a female colleague, and snorted cocaine in a restaurant. He denies these allegations."
From the Sun/YouGov poll:
That would give Labour a majority of 76.
Rafael Behr, writing in the New Statesman, says: "The pro-EU camp is in crisis because no one in Westminster dares to argue for immigration."
John Rentoul, writing in the Independent, says: "Nigel Farage has bottled his by-election chance, and Ukip is over."
Seumas Milne, writing in the Guardian, says: "It's not Russia that's pushed Ukraine to the brink of war."
Got something you want to share? Please send any stories/tips/quotes/pix/plugs/gossip to Mehdi Hasan (mehdi.hasan@huffingtonpost.com), Ned Simons (ned.simons@huffingtonpost.com) or Asa Bennett (asa.bennett@huffingtonpost.com). You can also follow us on Twitter: @mehdirhasan, @nedsimons, @asabenn and @huffpostukpol
Related