First-time father? Don't worry, there's an app for that.
While you're surely over the moon at becoming a parent for the first time, there is (undoubtedly) an overwhelming sense of anxiety and a dreaded fear of the unknown.
Because, in this day and age, it's not just your wife/girlfriend/partner who has to deal with children (and their arrival). Men have a pretty big role to play too.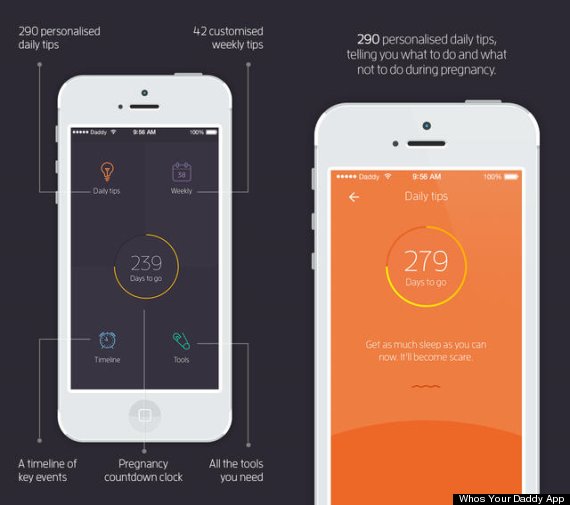 But the 'Who's Your Daddy' app is here to help. Fully-customisable, it uses humour and easy-to-understand language to help you through pregnancy and beyond... and all "for the price of a small beer".
Founded by Keith Walsh, the app is written by men (with the help of knowledgeable midwives) and offers daily tips, reminders and updates.
Keith decided to develop the app after he found out his partner was expecting their first child.
"As soon as the panic wore off I went to the app store for some apps to help me plan and figure out what I was going to be doing for the next nine months. But I was surprised to find out there was nothing written specifically for men," he told HuffPost UK Lifestyle.
He added: "There were a bunch of apps for mums and mums-to-be, but they were expensive and generic. There was nothing for men and the women's guides were written like men didn't exist or have any part to play during the pregnancy."
So how does 'Who's Your Daddy?' compare?
Keith is first to admit that there is great advice out there, but he struggled with the tone, language and conflicting advice of various publications.
"We wanted to write something in a tone of voice that was informative, friendly and advice that wouldn't sound like you'd need a medical dictionary to understand as a man."
See Also:

Project Breastfeeding: Men Breastfeed Children In Campaign To Support Nursing Mothers
The app launched in April 2014, and the reaction has been "overwhelmingly positive".
"One guy emailed to tell us he and his partner were going to do at least half the daily tips in the app. He has the tips set to go off at 8am and his partner asks every day what he is meant to do today. We couldn't have asked for a better reaction than that," said Keith.
Who's Your Daddy? is available on iTunes, priced at £2.99.