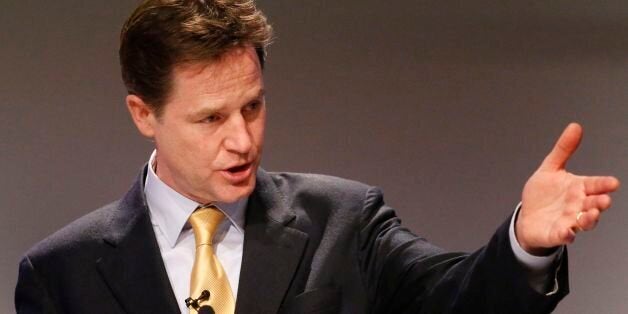 Angry Liberal Democrats have accused Tories of seeking to exploit the death of a teacher for political gain after leaked letters revealed that Nick Clegg blocked automatic jail terms for repeat knife crimes.
The Cabinet split was exposed just days after the fatal stabbing of Ann Maguire in a Leeds classroom and as campaigning steps up a gear for local and European elections on May 22.
Conservative Justice Secretary Chris Grayling had pressed for the automatic jailing of offenders caught more than once with a knife but the Deputy Prime Minister objected to the proposal.
Letters obtained by the Daily Mail showed that Lib Dem Chief Secretary to the Treasury Danny Alexander warned that the move would cost too much money, while the party's Schools Minister, David Laws, argued that mandatory minimum sentences were "too blunt an instrument".
"Those people who have leaked this correspondence out of context and those seeking to exploit it on a party basis in such a tragic week will have to examine their own conscience," a senior Lib Dem source said.
The source described the policy as a "tough-sounding gimmick" that could turn youngsters into hardened criminals and actually increase crime.
"The idea that Nick Clegg, Danny Alexander or any other Lib Dem would wish to make our society less safe is ridiculous. Quite rightly, there is ongoing debate across Government about how to improve policy on knife crime.
"This debate is being driven by seeking out what will actually be most effective. Whilst minimum sentencing might sound attractive in media headlines, there is a serious risk it could undermine the role of the judges who are best placed to decide on sentencing by virtue of their role.
"Sending youngsters automatically to jail regardless of the circumstances also has the potential to turn them into hardened criminals and can lead to more, not less, crime.
"The Liberal Democrats are interested in what actually works to tackle knife crime, rather than tough-sounding gimmicks."
In a letter to Clegg ahead of the meeting, dated April 29, Alexander said he had "serious concerns" about Grayling's plan, first floated in March, to introduce tougher treatment of knife offenders through an amendment to the Criminal Justice and Courts Bill.
'It would impose a substantial new pressure on the prison population as soon as it is implemented," warned Mr Alexander.
"The Ministry of Justice's budget is already under significant strain and this proposal would certainly not be affordable before 2016/17.
'It is very hard to see how it could be afforded afterwards given the further fiscal consolidation required in the next Parliament."
Alexander acknowledged that Grayling had pledged only to implement the new system when it is affordable, but added: "My strong view is that we should not be seeking to put measures on the statute book if they could not realistically be commenced for several years at best.
"The Treasury does not support this amendment and I am not willing to clear it."
In a letter to Clegg dated April 14, Mr Laws wrote: "The principle of judicial discretion is the cornerstone of our sentencing framework and mandatory minimum sentences restrict such discretion and can lead to unintended or unwelcome outcomes.
"I have concerns about the impact on the prison population and the deliverability of the policy within this Parliament. I am therefore unwilling to clear this proposal."