So many chefs and food writers have tried to redefine healthy eating before, slowly moving away from heavy dishes and focusing on fresh veggies, grains and fish.
Award-winning food writer and author Diana Henry discovered a fresh and delicious way of cooking we'll all want to try.
Enjoy a few of her irresistible recipes from her new book, A Change of Appetite: Where Delicious Meets Healthy.
See Also:

Tagliarini With Brown Shrimps and Zucchini

Indian Vegetarian Recipes: Savoury Yoghurt Kebabs And Blackberry Lassi
Roast Red Mullet With Tahini Dressing and Barley Tabbouleh (serves 4)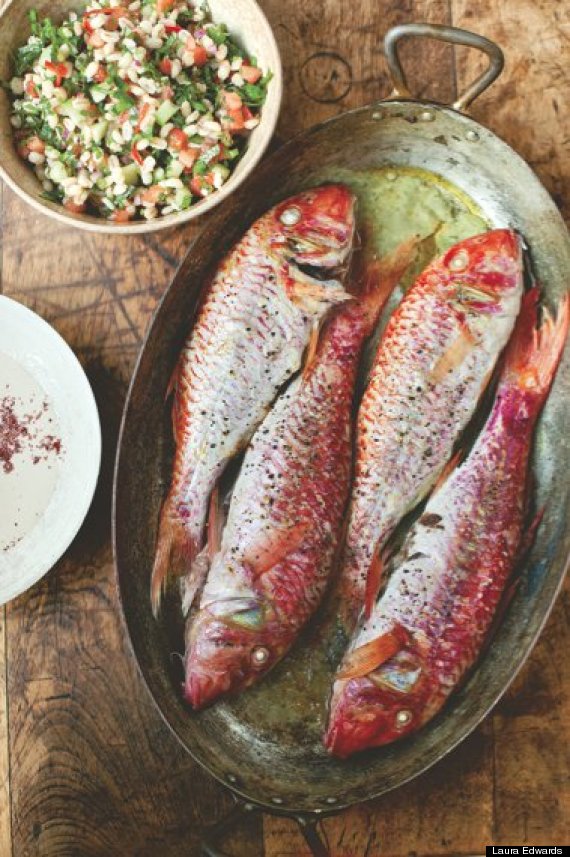 For the tabbouleh
150g (51/2oz) pearl barley
3 tbsp extra virgin olive oil,
or to taste
1 tbsp lemon juice, or to taste
1 tbsp white balsamic vinegar
salt and pepper
1 tbsp olive oil
1 small red onion, very finely
chopped
2 garlic cloves, finely chopped
2 tsp ground cumin
1 red chilli, deseeded and
finely shredded
big handful of mint leaves, torn
6 tbsp finely chopped flat-leaf
parsley leaves
5 really well-flavoured plum
tomatoes, peeled, deseeded and
finely chopped (see page 101)
1 ridge cucumber, peeled,
deseeded and finely chopped,
or use a regular cucumber
For the tahini dressing
2 tbsp tahini
juice of 1/2 lemon, or to taste
2 tbsp extra virgin olive oil
1 garlic clove, crushed
For the fish
4 large red mullet, about 225g
(8oz) each, cleaned and scaled
4 tbsp olive oil
juice of 1 lemon
a little sumac
Put the barley into a saucepan and cover with plenty of cold water.
Bring to the boil, then reduce the heat and cook for 30 minutes, or until tender. Drain, rinse with boiling water, shake dry, and immediately mix with the extra virgin oil, lemon juice, vinegar and seasoning. Leave to cool to room temperature.
Heat the regular olive oil in a saucepan and sautee the onion until it is soft but not coloured. Add the garlic, cumin and chilli and cook for another couple of minutes. Leave to cool. Stir this into the barley along with the herbs, tomatoes and cucumber. Check for seasoning. You may also want to add a little more extra virgin oil or lemon juice.
To make the tahini dressing, beat the tahini (just use a fork), then add 75ml (21/2fl oz) of water, the lemon juice, extra virgin oil and garlic. (Make sure you add the water before the lemon juice, or the tahini suddenly thickens.) Taste and season. You may also want to add a little more water or lemon juice; different brands of tahini have varying consistencies, so add water and seasonings accordingly. Your finished mixture should have the consistency of double cream.
When ready to cook the fish, preheat the oven to 180C/350F/ gas mark 4. Season the mullet in their cavities and put them in an ovenproof dish where they can lie in a single layer. Mix the regular olive oil with the lemon juice and pour all over the fish. Season the outside. Bake for 15 minutes. Drizzle the fish with some of the tahini dressing (serve the rest on the side) and sprinkle both dressing and fish with sumac. Serve with the barley tabbouleh.
LIKE HUFFPOST UK LIFESTYLE ON FACEBOOK | FOLLOW US ON TWITTER | WE'RE ALSO ON INSTAGRAM
Roast Tomatoes and Lentils With Dukka-Crumbed Eggs (serves 6)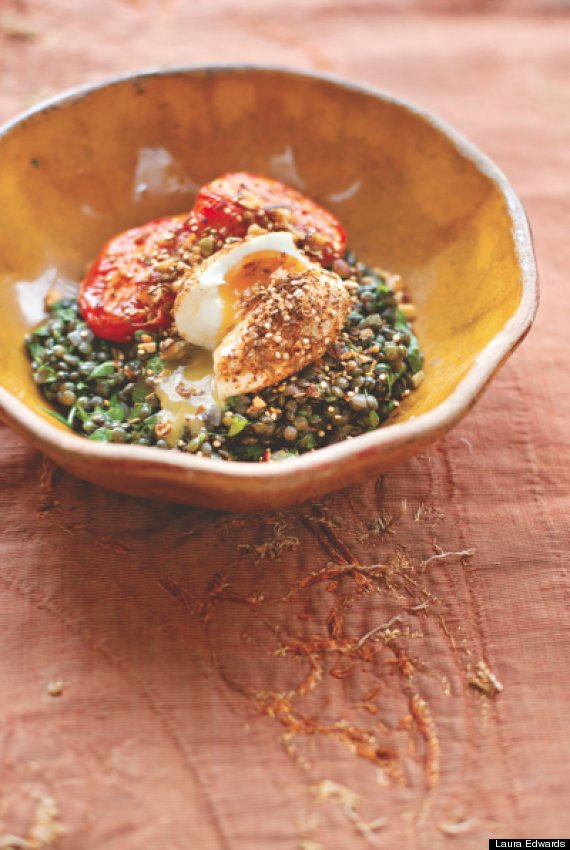 or a light main course
For the dukka
75g (21/2oz) hazelnuts (skins on)
50g (13/4oz) sesame seeds
1 tsp nigella seeds
1 tbsp sunflower seeds
3 tbsp coriander seeds
1 tbsp white peppercorns
11/2 tbsp cumin seeds
1 tsp ground paprika
1/2 tbsp sea salt flakes
For the tomatoes and eggs
12 large plum tomatoes, halved
3 tbsp olive oil
2 tsp harissa
1/2 tbsp caster sugar
salt and pepper
6 large eggs
For the lentils
1 tbsp olive oil
1/2 onion, very finely chopped
1 celery stick, very finely chopped
1 garlic clove, finely chopped
250g (9oz) Puy lentils
1 sprig of thyme
1 bay leaf
juice of 1/2 lemon
1 tbsp sherry vinegar
31/2 tbsp extra virgin olive oil
2 tbsp chopped coriander leaves
To make the dukka, put the hazelnuts in a dry frying pan and toast over a high heat until they smell roasted. Be careful not to go too far, they burn very easily. Tip them on to a plate to cool a little, then crush them in a mortar to a coarsely ground mixture.
Put the sesame seeds into the dry frying pan with the nigella and toast until the sesame seeds are golden. Follow with the sunflower seeds. Roughly crush all the toasted seeds and add to the nuts.
Toast the coriander seeds until they smell toasted, then grind them very roughly. Do the same with the peppercorns, then the cumin seeds. Combine the nuts, seeds and toasted spices with the paprika and salt. Store in a jar or other airtight container until you need it. For the tomatoes, preheat the oven to 190C/375F/gas mark 5. Lay the tomatoes in a single layer in a roasting tin. Mix the olive oil and harissa together and pour over. Turn to coat, ending cut side up, then sprinkle with sugar and season. Roast in the oven for 45 minutes, or until caramelized in parts and slightly shrunken.
Meanwhile, cook the lentils. Heat the oil in a saucepan and gently sautee the onion, celery and garlic until soft but not coloured. Add the lentils and turn them over in the oil. Chuck in the thyme and bay leaf. Pour on 700ml (1 pint 31/2fl oz) of water, season lightly, bring to the boil, reduce the heat and simmer, uncovered, until the lentils are just tender. This could take 15–25 minutes depending on their age, so watch them; they can turn to mush quickly.
When they are cooked, they should have absorbed all the liquid (simply drain them if they haven't). Remove the thyme and bay leaf. Add the lemon juice. Mix the vinegar and extra virgin oil together and stir it into the lentils with the coriander. Taste for seasoning.
Cook the eggs in boiling water for six minutes. They should still be a little runny in the middle. Rinse them in cold water and, once cool enough to handle, quickly peel. Roll them lightly in the dukka and set each on top of a serving of lentils and tomatoes, or if you prefer to see the yolk, break the egg in half and sprinkle some dukka on top. Serve immediately.
Toasty Rye Muesli With Hazelnuts and Dried Cranberries (makes about 500g (1lb 2oz)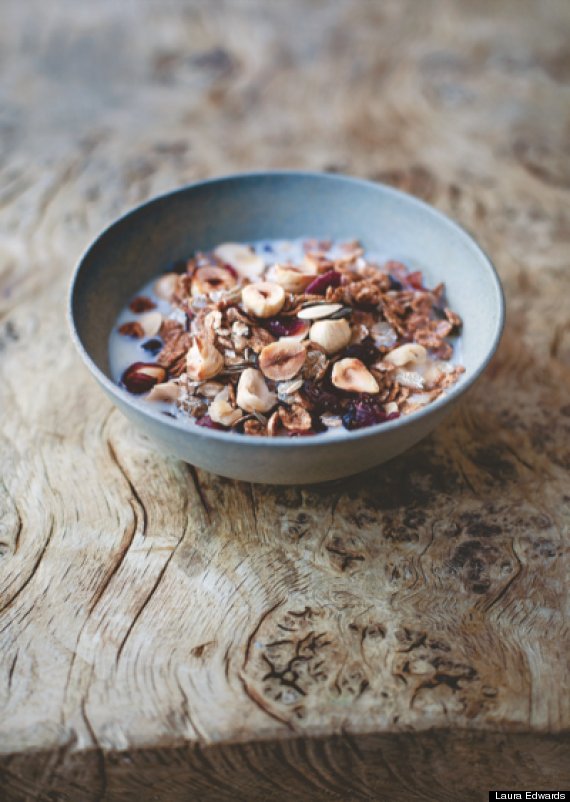 100g (31/2oz) rye flakes
50g (13/4oz) spelt or barley flakes
100g (31/2oz) toasted malted
wheat flakes
25g (1oz) wheat bran
20g (3/4oz) sesame seeds
50g (13/4oz) sunflower seeds
10g (1/4oz) hemp seeds
10g (1/4oz) linseeds
60g (2oz) unblanched hazelnuts
60g (2oz) dried cranberries or
dried sour cherries
2 tbsp raisins
2 tbsp poppy seeds
To serve
milk
Greek yogurt and chopped
fresh fruit (both optional)
Preheat the oven to 180C/350F/gas mark 4. Put all the flakes, the bran, the sesame, sunflower, hemp and linseeds into a roasting tin and spread them out. Bake for about 15 minutes, turning the contents over a couple of times. (You can also do this in a dry frying pan if you prefer, it just takes minutes. You'll smell the toasty aroma.)
Roughly chop the hazelnuts and put them into a roasting tin too. Bake for about four minutes (you can also do these in a dry frying pan and in fact it's easier to make sure they don't burn that way). Mix all the ingredients for the muesli together. You can store this in an airtight container for up to two weeks.
To cook, put 50g (13/4oz) of the muesli mix and 75ml (21/2fl oz) milk per person into a saucepan. Heat until almost boiling, stir gently, then cover and leave to sit for five minutes so that the ingredients can soften. Serve the muesli and milk, and add yogurt and fresh fruit as well, if you want. I especially like blueberries with the rye flavour.
For more of her mouthwatering dishes, check out her new book, A Change of Appetite: Where Delicious Meets Healthy.