Whoever painted this advice to pedestrians would perhaps struggle to follow it.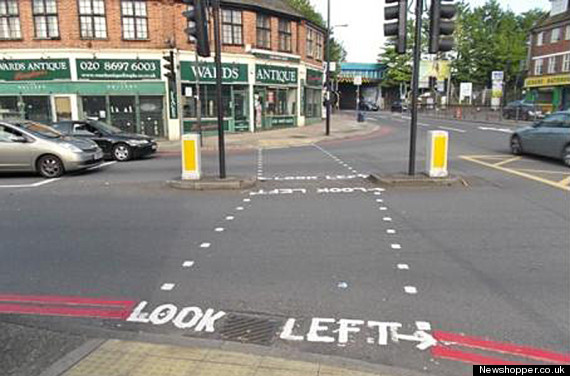 Look left/right
Local paper The News Shopper pointed out that anyone looking to cross Hither Green Road in south east London at these traffic lights might be confused by the fact they're asked to 'keep left' next to an arrow pointing right.
Local William Leggatt, 60, sent the picture in and told the News Shopper: "I was just out having a quick walk in the sun to get some exercise and then I saw it.
"I just couldn't believe what I was looking at."
The paper said Transport for London had not commented on the arrows.
It echoes a case in April where the arrows directing traffic on a roundabout in Crouch End were also painted the wrong way.
Someone joked it showed London's efforts to "go Dutch" to improve cycling safety were being taken to literally.
If you're going to cross here, keep your wits about you and remember that left is left and right is right.
We would suggest some sort of visual aid to help them remember but that didn't work out so well last time.