"He would never have said it, but I know for a fact that what I went through was child's play compared with him."
No small words, when you consider that the man telling me this is John McCarthy, who was Britain's longest-held hostage in the Lebanon, kidnapped and kept in captivity for five years between 1986 and 1991.
Even John, however, appears awed by the trials of Eric Lomax, whose memoir 'The Railway Man' has been brought to the screen by Colin Firth, Nicole Kidman and Stellan Skarsgård, on DVD release today.
"There were different aspects of suffering," reflects John, comparing his plight in the Lebanon – blindfolded, isolated, not knowing who his captors were or what they wanted – with that of Eric Lomax, captured and kept in a Japanese prisoner-of-war camp in 1942, before being sent to Thailand and forced to join in the construction of the Burma Railway.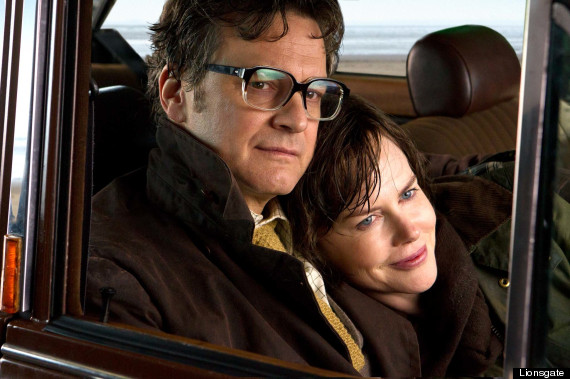 Colin Firth and Nicole Kidman as Eric and Patti Lomax in 'The Railway Man'
"I went through much bigger periods of isolation from him, but not that extraordinary, deliberate brutality," says John. "That deliberate, careless – and Eric uses the word 'careless' in his memoir – destruction of human beings."
Although Eric Lomax died in 2012, John McCarthy is happy that he had the chance to meet him through their mutual work for charity Freedom From Torture, which looks after survivors of torture, practically and through counselling, and also campaigns against the practice of torture around the world.
"It was a remarkable meeting," remembers John. "There he was, this very diffident, Scottish gentleman, with a very soft accent, talking about the weather and what-not.
"And I was reading his book at the same time, with this man sitting nearby, and thinking just what a difference there was between the two."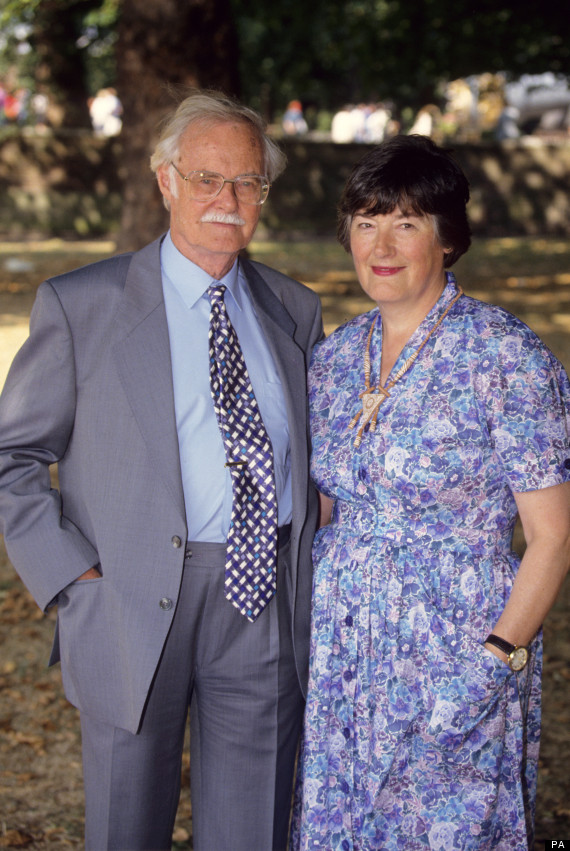 Eric Lomax with his wife Patti
John acknowledges that there is a silent understanding that exists between all former prisoners, which "happens anywhere around the world. There are many situations that I can't understand, but for people who've been through brutal experiences, there will be stuff where our emotional paths will cross."
But there are differences, too, depending on circumstance. John is very aware of all the support he and his then girlfriend Jill Morrell received on his return home in 1991 – "We were conscious that everybody wanted to understand our story, and we had so much support in telling it.
"It was very different for Eric. When he came home in 1945, you couldn't talk about that stuff. Which is a shame, because I know from personal experience that it was a good process and cathartic, and I'm so glad he got the chance, finally, to do it."
Both men took the journey, too, to the place where they had previously suffered so much, but for very contrasting, personal reasons.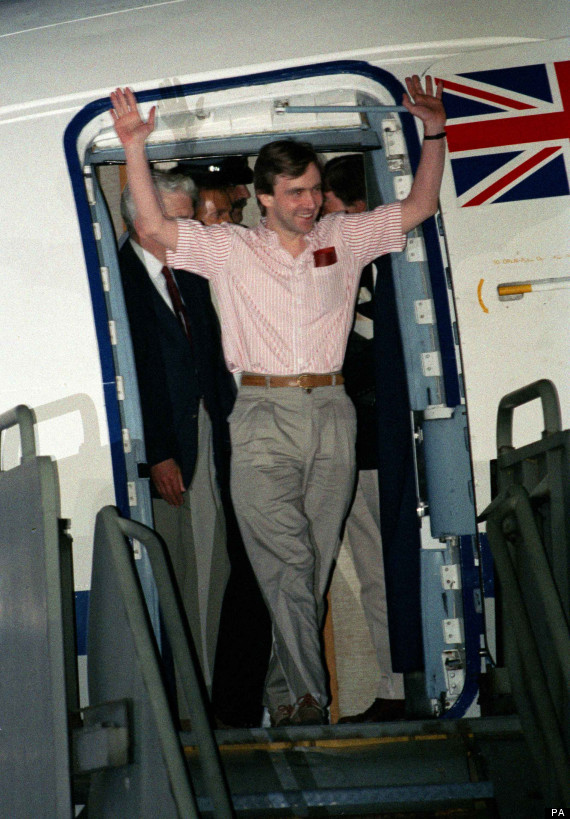 John McCarthy on his release from captivity in 1991
"I didn't have the same feeling of wanting to seek revenge," explains John, which is pretty extraordinary, considering his description of five years of constant anxiety, hopelessness and feeling as though you are "somebody else's thing, to do with whatever they like".
However, for John, "going back for me was about feeling safe again in a place or being allowed to be there, finding that for myself.
"I don't need or want to see those people again. Maybe that's because I never saw their faces, because I was blindfolded, so no face stayed in my mind.
"For Eric Lomax, the location was important, but it was it was much more personal. It was about that one man whose face he'd been fixed on for all the years since. That was much more profound."
For what happened when Eric Lomax decided to go back and face his brutal captor, well, I don't want to ruin it for those yet to read the book and see the film, but I highly recommend you do both. It's extraordinary and inspiring.
Or, as John McCarthy puts it, "If Hollywood made up this film, t would be unbelievable, you'd think it was too Disney-fied. But it did happen, so you can't argue with it."
'The Railway Man' is part of our brand new Culture of Kindness section - a HuffPostUK page dedicated to all TV shows and films that have kindness at their core, that celebrate warmth and generosity between people, and give a voice to those we often overlook. See what other treasures we've found here...
'The Railway Man' is available on Blu-ray, DVD and digital platforms from today, courtesy of Lionsgate Home Entertainment. Watch the trailer below...
LIKE 'Culture Of Kindness' ON FACEBOOK | FOLLOW @CultureKindness ON TWITTER