Zac Efron, Seth Rogen and Jimmy Kimmel have joined forces for a hilarious sketch, which sees the trio in drag as teenage girls - giving them the perfect opportunity to poke fun at Seth's pal James Franco.
The sketch, designed to look like a Nickelodeon show, sees the funnymen star as Sara, Alison and Britney, three youngsters interested in dancing (terribly) and taking a bunch of selfies.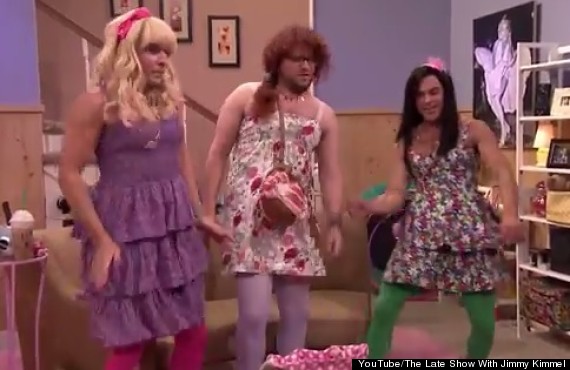 The trio pull some questionable shapes
Despite his bulging biceps, Zac's impression of a teenager is pretty good - though his dance moves could definitely do with being toned down a bit.
Of course, when the opportunity arises to poke fun at Seth's 'Pineapple Express' co-star, the actors jump at the chance, labelling him as majorly 'EW!', just before their characters receive texts from the actor.
Seth recently spoke out about his (less than complimentary) feelings for Justin Bieber while Zac has been spending a lot of time taking his shirt off and um, taking his shirt off.
Watch the trio's comedy sketch above…
LIKE US ON FACEBOOK | FOLLOW US ON TWITTER