 SWNS
This is the dramatic moment the fugitive known as the "Skull Cracker" and his accomplice were finally arrested.
The serial armed robber continued to be questioned by police Thursday, after his five days on the run from an open jail came to a dramatic end. Career criminal Michael Wheatley, 55, was held in London yesterday hours after allegedly robbing a building society in Surrey.
The Chelsea Building Society branch in Sunbury-on-Thames is reportedly the same branch Wheatley raided in July 2001.
These dramatic images show the moment he was arrested in Tower Hamlets, east London, on suspicion of the armed raid along with the alleged accomplice, a man aged 53.
Witnesses described how armed plain-clothed officers forced Wheatley to the floor with the words: "Armed police, get down."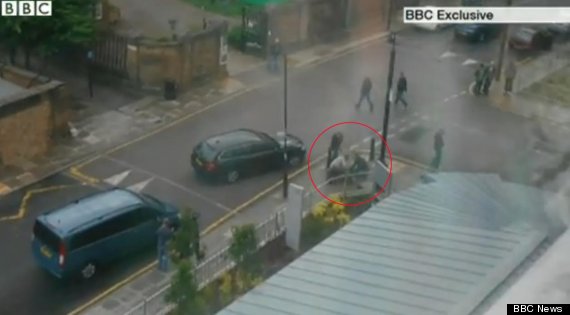 Angel Todorov, 22, told the Daily Mirror: "I looked out the window and there was police officers everywhere. There was a great deal of shouting and swearing."
Wheatley's arrest brought to an end a high-profile manhunt sparked after he went missing while on temporary licence from HMP Standford Hill on the Isle of Sheppey, Kent, on May 3.
Wheatley, who earned his nickname after pistol-whipping victims including a 73-year-old woman, had gone on the run twice in the past and each time staged a series of violent robberies before being caught and returned to jail.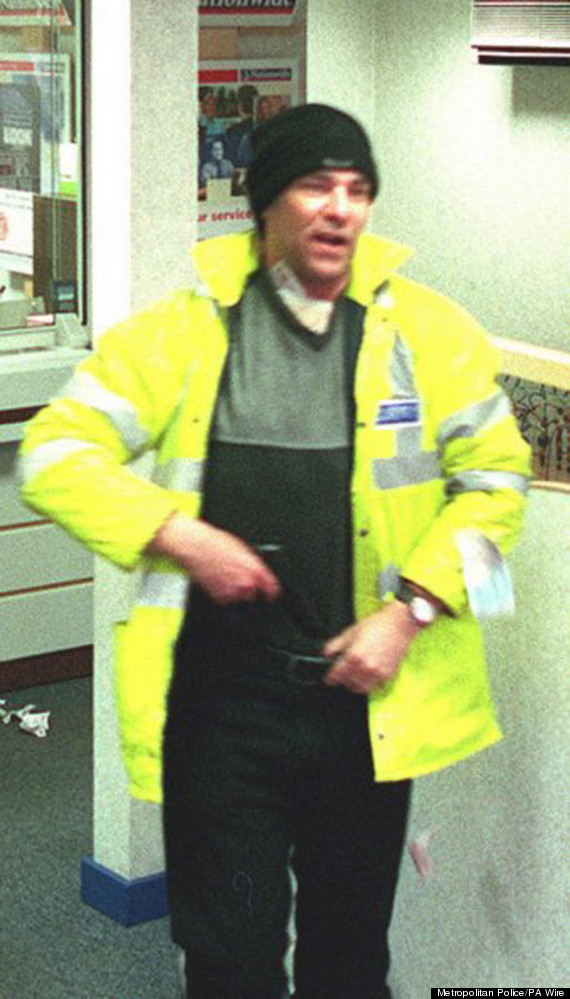 Michael Wheatley pictured during an armed raid in 2002 Police outside a branch of the Chelsea Building Society in Sunbury-on-Thames, Surrey which was robbed on Wednesday
Jodie Aston, 30, who works in a hair and beauty salon yards from the building society at the centre of the raid, said police told her they knew who the suspect was.
She said: "They came in and said the man that robbed the bank was the man that escaped from the open prison and it happened at 10.20am.
"We heard nothing until someone came in and told us. It's quite scary to think we were so close. It could have been in here."
Barmaid Chloe Theobald, 26, said she was alerted to the incident when she was having lunch with her manager.
She said: "The police said to my boss, 'We think it's the Skull Cracker and he's been sighted in Sunbury'.
"It's quite scary. It's not something that happens every day that there's a man on the loose."
The suspect in yesterday's robbery burst into the building society in The Parade, Staines Road, at around 10.20am and threatened staff with a handgun before being given money from a safe and running away.
Police said they do not know whether the gun was real or imitation.
Wheatley was released on a temporary licence from HMP Standford Hill on Saturday and is thought to have boarded the 9.20am high-speed train from Sittingbourne, which was heading to Stratford International station.
Police were called when he failed to return to the prison at 6pm and a specialist team of officers pieced together a timeline of his movements.
There was a confirmed sighting of Wheatley at 7.55pm on Monday in the Strawberry Hill area of Twickenham, and several homes were searched but he was not found until yesterday.