Miley Cyrus surprised party-goers at London's G-A-Y nightclub last night by turning up to perform a number of her biggest hits.
The 'We Can't Stop' singer is currently in the UK performing her 'Bangerz' tour concerts, however she couldn't resist donning a gold leotard and stopping by the club for a surprise gig.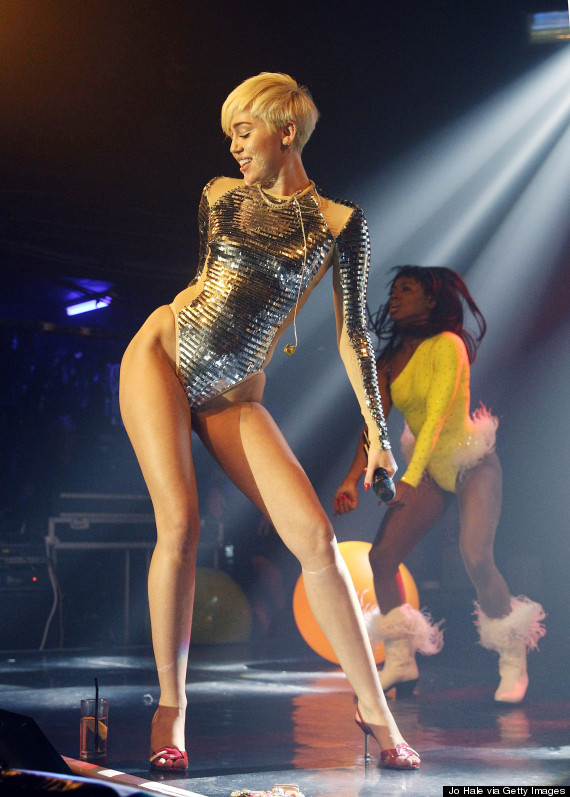 Miley Cyrus performs at G-A-Y
Naturally, Miley didn't disappoint and spent a lot of her time onstage clutching a blow-up doll before straddling a phallic-shaped inflatable. As you do.
Miley was joined onstage by a number of equally scantily-clad dancers and her moves were as raunchy and provocative as you'd expect.
The 'Wrecking Ball' star recently postponed a number of 'Bangerz' concerts due to ill health, though it appears she's now back on fine form and fans will be pleased to see that her twerking abilities haven't been hindered by her time in hospital.
Miley's made the most of her time in London recently, spending her nights off partying in SoHo and sharing plenty of snaps on Instagram. You didn't seriously expect her to be relaxing in the hotel spa, did you?
The 'Bangerz' tour hasn't been without its problems though, along with a string of cancelled dates in the US and Europe, there have also been issues including a tour bus fire and numerous complaints about the shows' graphic content.
Check out all the (NSFW) pictures of Miley's G-A-Y show here…
LIKE US ON FACEBOOK | FOLLOW US ON TWITTER