Nigel Farage has claimed he needs bodyguards because of the threat of violence from anti-fascist organisations.
The Ukip leader, who was egged last week, suggested Labour figures who position themselves as anti-fascist are leading groups whose members violently protest at his public meetings.
Describing himself as a "free spirit" who cannot stand having protection, Farage said the "taxpayer and trade union-funded" groups Unite Against Facism and Hope Not Hate are using force at Ukip events.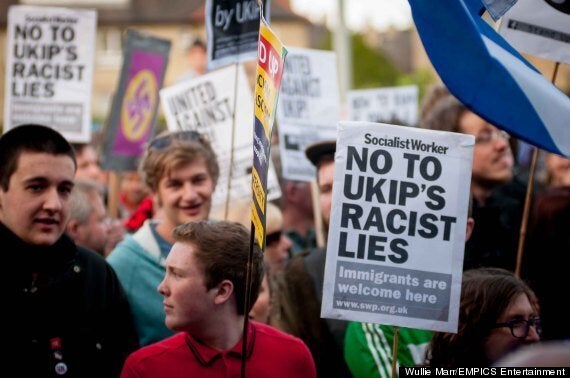 Farage blamed demonstrators for his use of bodyguards
He told BBC One's Sunday Politics: "I can't stand it. I've always been a free spirit that's wandered around the place and done my own thing.
"I'm afraid that the level of threat has... sadly we have a couple of organisations out there headed up by senior Labour Party figures who purport to be against fascism and extremism who receive funding from the Department for Communities (& Local Government), who receive funding from the trade unions who have acted in a violent way more than once.
"Unite Against Facism and Hope Not Hate are taxpayer-funded, they are trade union-funded, and they are headed up by very senior Labour Party figures.
"I'm perfectly happy for them to come to my meetings and have an argument with me but it's not so much fun when they are banging me over the head with banners."
"HOPE not hate hit back at the accusations. In a statement they said: "[HOPE not hate] categorically refutes ridiculous claims made on the BBC Sunday Politics show this morning, by UK Independence Party (UKIP) leader Nigel Farage, that it had encouraged violence or forced him to employ bodyguards.
"HOPE not hate is a mainstream organisation which fights against racism and extremism. It is not aligned to any political party and will work with anyone to defeat racism and intolerance."
HOPE not hate supporters have not attacked or disrupted any UKIP meeting, nor have we encouraged our supporters to hold protests outside UKIP meetings. This is simply a lie by Nigel Farage, designed to detract from the growing number of extremists being exposed within his party
The Ukip leader also claimed most over-70s in Britain are uncomfortable about homosexuality.
He told the programme: "When Roger grew up, and indeed when he was an adult, homosexuality was illegal in this country and he held that view for some period of time.
"And actually if we asked 70s and over in this country how they felt about it, most of them still feel uncomfortable.
"He has said the world has moved on, he now accepts there has been a big social change in Britain and he's relaxed about it."