Ukraine's Eastern rebels have claimed victory in a "self-rule" referendum, with an apparent nine out of ten votes cast in favour of independence.
Reporters on the ground said that thousands of people were left queuing outside shambolic polling stations, with no observers or checks on identity.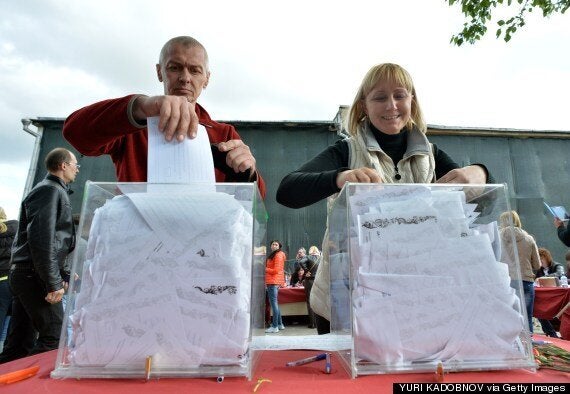 Ukrainians cast their votes during a so-called referendum at a polling station
The EU and US have deemed the polls illegal, and Ukraine's interim government called the vote a "farce".
"The Ukrainian people does not recognise any terrorist referendums in the Donetsk and Luhansk regions, and also in Crimea," it said in a statement.
The head of the so-called "Donetsk People's Republic" election commission Roman Lyagin told reporters that turnout had been around 75%.
In one week's time, voters are expected to be asked whether they favour seceding to Russia. A poll by the Pew Research centre in the US found 70% in the country's east – which includes areas along the Black Sea and the border with Russia – prefer to remain in a unified Ukraine.
But around two-thirds of those polled say they disapprove of the current government in Kiev. Russian speakers have voiced a real fear that their language will soon be deemed illegal, and that Russophobia in the west of the country will lead to them becoming a persecuted minority.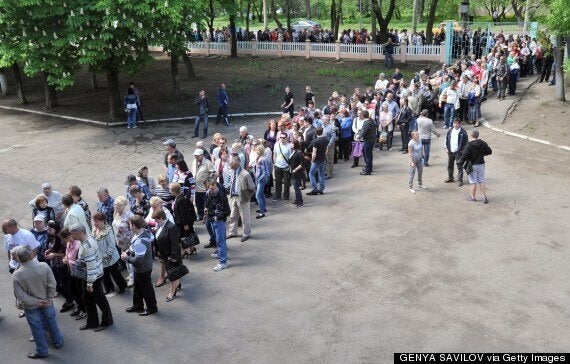 People queue to the polling stations during a so-called referendum in the eastern Ukrainian city of Donetsk
Oleksandr Scherba, ambassador-at-large for the Ukrainian foreign ministry told Radio 4's Today programme: "We need to de-escalate the situation. It is not a real choice when people express their choice under the guns of people in balaclavas.
But he admitted the government "needs to hear people in the east and their concerns. What people what is reform, not secession."
President Vladimir Putin had called on the pro-Russian contingent in both regions to delay the vote and open dialogue with Kiev.
"Moscow respects the will of the people in Donetsk and Luhansk and hopes that the practical realisation of the outcome of the referendums will be carried out in a civilised manner," the Kremlin said in a statement on Monday.
Ukrainian national guardsmen fired on a crowd of voters queuing in the Donetsk town of Krasnoarmiisk, with rebel leader Denis Pushilin quoted by the ITAR-Tass news agency several people had been killed, but giving no exact indication of how many.
A YouTube video shows men holding AK-47s yelling "go home" at the crowd as a man carrying a weapon approaches the guardsmen, who fire a warning shot over his head. Undeterred, the man strides forward, but is then struck by a bullet in the leg, falling to the ground.
Popular in the Community