A predicted flood of Romanian and Bulgarian migrants coming to Britain after border controls were lifted in January has failed to materialise - with actually 4,000 fewer now working in the UK.
The new figures from the Office of National Statistics show it would take over 200 years for migration from the EU to get near the 26m figure Ukip have used in their poster campaign, one analysis suggested.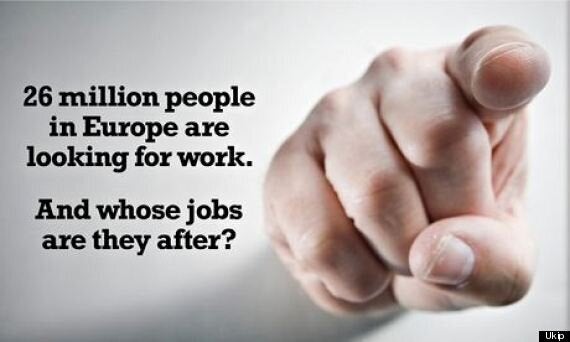 The Ukip poster which threatened a flood of EU migration
The latest figures from the ONS show that 140,000 Romanians and Bulgarians were employed in the UK between January and March 2014. This is an increase of 28,000 from 112,000 compared to the same three months last year.
But the increase in numbers came in 2013, especially the last few months of the year, and not after working restrictions were lifted on New Year's Day 2014.
The total increase in foreign workers in Britain was 7%, which Ukip said showed Britain was a "free-for-all".
Sir Andrew Green, chairman of Migration Watch UK, dismissed the decrease, saying quarterly statistics "always fluctuate" and that his organisation still predicted a 50,000 population increase from Romania and Bulgaria for each of the next five years.
Migration Matters Trust chair Barbara Roche Migration Matters Trust accused Ukip and the anti-immigration lobby of "prejudice and scaremongering".
"This comes after Nigel Farage claimed that over 5,000 would be arriving each week, every week for several years," she continued.
"Today's figures show it would take over 200 years for migration from the EU to get near the 26m figure Ukip have used in their poster campaign."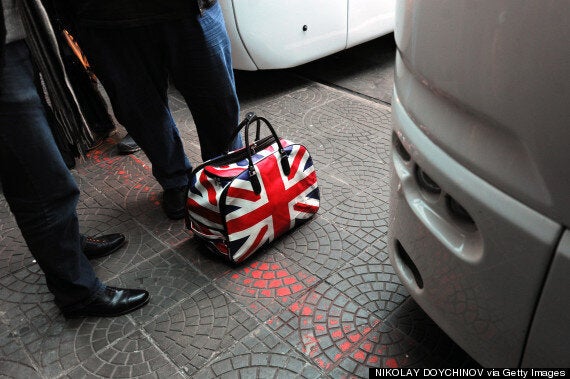 A bag decorated with the British flag is seen as people prepare to board a bus to London via Germany and France at the central bus station in Sofia, Bulgaria
British Influence director Peter Wilding, who campaigns to keep Britain in the EU, told HuffPost UK: "These figures are the exact opposite of the 'invasion' and the 'opening floodgates' Nigel Farage predicted when transitional controls were lifted."
"But on the contrary: they are fewer now," he said. "It is too early to say how many will come by the end of the year. But I believe it time now to stop the scaremongering and unfair campaign against Romanians (and Bulgarians, Poles and East Europeans in general) and to concentrate on what we can do together for our common future.
"The Romanians' flood to the UK is over even before it started."
Ukip said in a statement that the increase in the total number of EU workers by 292,000 showed Conservative-Lib Dem immigration policy has been an "abject failure".
"Having promised the British electorate that they would bring net immigration down to the tens of thousands, the government has instead overseen another massive increase in those coming to Britain," Farage said.
New legislation also means EU migrants are unable to claim out-of-work benefits for their first three months in the UK. Those found begging or sleeping rough could be deported and barred from re-entry for 12 months unless they can show they have a proper reason to be in the UK, such as holding a job.
The Home Affairs Select Committee earlier this year blasted the Government for failing to commission estimates of the numbers of Romanians and Bulgarians who would come to Britain after controls were lifted.
In a damning report, the committee said the Government's decision not to obtain official estimates played into the hands of those who ''wish to inflame tensions about immigration for political gain''.
Related