British employers fuelled the rise in Romanian workers in Britain throughout 2013 by advertising tens of thousands of jobs to eastern European candidates, according to the country's biggest jobs website.
UK jobs offered to Romanians outnumber applicants by about 55%, dousing cold water on the notion that Romanians arrive in Britain in order to poach local jobs.
According to Romanian's top recruitment website, the highest number of jobs in all of Europe are offered by Britain to Romanians. The UK offers double the number of the second biggest recruiter, Germany.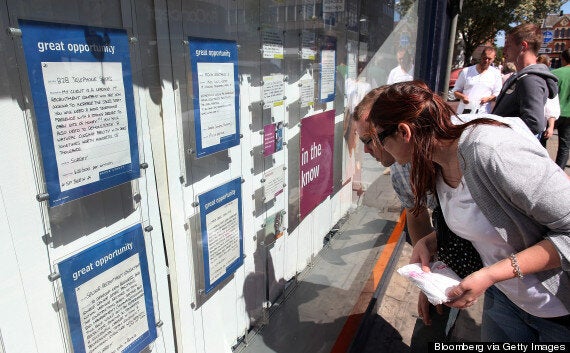 British companies are advertising thousands of jobs every month directly to Romanians
But that number has actually fallen by 4,000 since working restrictions were lifted in January, a reduction Prime Minister David Cameron said was "notable".
Eurosceptic party Ukip has dedicated much of its European election campaign to the idea that Europeans are actively seeking to take jobs from British people. One poster featuring an out-of-work construction worker says he has been "hit hard by unlimited cheap labour". Another says "26 million people in Europe are looking for work. And who's jobs are they after?" with a finger pointing at the viewer.
But statistics from Romania's TJobs.com show that although the number of Romanians seeking jobs in the UK has increased, British employers are fuelling the demand. In fact, Romanians are being bombarded by British recruiters, with offers up nearly 70% compared to the same period in 2013.
Tjobs.comrepresents 90% of the recruitment agencies in Romania. Jobs currently being advertised include positions for NHS and private hospital nurses, with specialities from oncology to psychiatry, to head chefs at four star hotels.
David Hanson MP, Labour's immigration spokesman, said it was a misrepresentation to portray Romanians as coming to the UK specifically to steal jobs.
"We need to ensure that there is fairness in the employment market – that's why a future Labour government will take action to stop jobs being recruited through agencies that only advertise abroad.
"The Conservative-Lib Dem government have had plenty of opportunity to do this but they have failed to take the enforcement action needed. Everyone needs a fair chance to apply for employment opportunities."
The highest number of jobs advertised were for medical professionals, which are for applicants with qualifications, not care home workers. Agriculture is the second highest employer of Romanians, followed by hospitality, construction and then care professionals.
UK employers advertised 36,285 jobs between January and March 2014, to 23,399 candidates, over 50% more than there were candidates.
"The demand in the UK is quite high, the deficit of staff in certain sectors is even more visible now after the working restrictions are gone," Tjobs' Raluca Stefanescu told HuffPost UK.
"Often Romanians are paid even more than the British employees if you add the benefits which come together with the salary, like accommodation, transport to/from workplace etc. The final amount is much larger than the basic salary offered."
In the last four years, British companies have advertised more than 200,000 jobs directly to Romanians. It is the highest number of any European country, and more than double the number of Germany, the second highest.
A total of 144,000 Romanians and Bulgarians were employed in the UK between October and December last year, according to the last batch of ONS statistics, an increase of 9,000.
The figures from Tjobs appear to show most Romanian migrants are not heading to Britain on a whim to apply for jobs.
New legislation also means EU migrants are unable to claim out-of-work benefits for their first three months in the UK. Those found begging or sleeping rough could be deported and barred from re-entry for 12 months unless they can show they have a proper reason to be in the UK, such as holding a job.
The Home Affairs Select Committee earlier this year blasted the Government for failing to commission estimates of the numbers of Romanians and Bulgarians who would come to Britain after controls were lifted.
In a damning report, the committee said the Government's decision not to obtain official estimates played into the hands of those who ''wish to inflame tensions about immigration for political gain''.
Business Secretary Vince Cable said the figures showed claims that the lifting of restrictions would lead to a new wave of immigration from the Balkans were just a "scare story".
"I think what has happened is reassuring for those people who kept calm and didn't buy into this story that we were going to have millions of people flooding the country from the Balkans. I hope that's calmed people down a bit," he said.
Defence minister Anna Soubry told BBC Radio 4's The World at One the Government could miss its target to reduce net migration to the tens of thousands by the time of the general election next year. "At the moment we don't seem to be on course," she admitted.