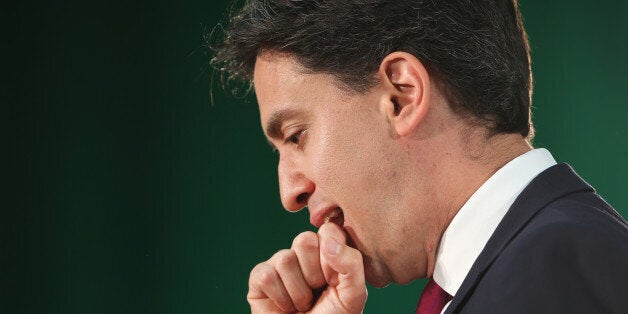 Here are the five things you need to know on Thursday 15 May 2014...
I've been saying for a while that Labour's media team needs to work harder on Miliband's public appearances, including his television interviews. It doesn't help that his three main media advisers - Tom Baldwin, Bob Roberts and Patrick Hennessy - are all ex-newspaper men, rather than ex-broadcasters a la Craig Oliver, David Cameron's main media man.
The Times reports today that Labour's new 300,000-pound-a-year adviser, ex-Obama man David Axelrod, is planning to focus on a Miliband 'makeover':
"Labour's new American election strategist will give Ed Miliband a makeover to make him more appealing to voters, amid jitters among senior party figures over a dip in the party's poll ratings. David Axelrod, who helped President Obama to win the White House twice, will try to improve the party's communications and presentation but will also look at Mr Miliband's performance in front of the cameras. Until recently this was not a feature of Labour's election planning. 'There is no strategy for Ed the person,' one senior figure said recently, despite widespread criticism of his performances. The party has been aware for several months that this is an issue. It has conducted focus groups in which members of the public were shown clips of Mr Miliband on television. The participants reacted badly."
The Times piece also notes the lack of enthusiasm from the 'other Ed' - the shadow chancellor - for some of Labour's campaign posters:
"The decision to focus on Mr Miliband came as Mr Balls distanced himself from an election poster on VAT authorised by Douglas Alexander, the party's campaign chief. The poster criticising the coalition's VAT rise shows a collection of groceries with the faces of David Cameron and Nick Clegg superimposed on peas. The slogan reads: 'They put £450 extra VAT on your shopping bill ... Cameron and Clegg: two peas in a pod.' However, food is not subject to VAT. Speaking on LBC radio, Mr Balls was asked to accept that the campaign poster was wrong. He replied: 'When I saw it, I had the same reaction as you which is, I think, I might have chosen a different picture had I been drawing up that ad.'"
2) PUTTING THE GREAT INTO GREAT BRITAIN
"David Cameron will today insist that Scotland 'puts the great into Great Britain' as he seeks to love-bomb voters north of the border considering voting for independence. The Prime Minister is embarking on a two-day anti-independence tour of Scotland following jitters in Westminster about the state of the 'no' campaign ahead of the referendum taking place on September 18. Speaking in Glasgow, he will declare: 'My message is simple. We want Scotland to stay.'"
No matter how much he sucks up to the Scots, though, his presence will only hinder, rather than help, the No/'Better Together' campaign. Scots hate Tories and the Yes/Independence campaign have repeatedly played up the idea of going it alone in order to avoid Tory governments.
Poor ol' Dave. Damned if he does, damnned if he doesn't...
3) NICK'S NOT FOR TURNING
Nick Clegg has been doing the rounds of the broadcast studios this morning and insisting that his free school meals policy will go ahead - despite sniping from Tories.
Speaking to ITV1's Good Morning Britain, the Lib Dem leader dismissed "a few rather peculiar Conservative and former Conservative advisers who don't like the policy", adding: "It's going to happen, it's properly budgeted, it will happen".
Meanwhile, Michael Gove, the education secretary, and his Lib Dem deputy, David Laws, have produced a show of unity via a joint op-ed in the Times, saying the free school meals policy had "cross-party support". Laws didn't turn up to support Gove in the Commons on Monday so maybe they've kissed and made up - on Clegg's orders!
BECAUSE YOU'VE READ THIS FAR...
4) 'MASSIVE EFFORT' TO STOP UKIP
But will it work? From the Times:
"David Cameron has ordered Conservative MPs to visit Newark at least three times before the by-election that he hopes will halt Ukip's advance. Senior Tories say that a 'massive effort' is under way to win the contest on June 5 in what one dubbed 'Operation Burst the Bubble'. The resignation of the disgraced former Conservative MP Patrick Mercer triggered the by-election, which will be held two weeks after the local council and European parliament elections."
Meanwhile, a new YouGov poll shows that a majority (51%) of Ukip voters want the government to "encourage immigrants and their families to leave Britain". As I note in a new blogpost for HuffPost UK: "Telling settled immigrants, both British citizens and permanent residents, as well as their British-born offspring, to 'go home' is good ol' fashioned racism, plain and simple."
Veteran Labour MP Austin Mitchell, who's standing down at the next general election, doesn't care what he says or how it upsets people. From the Huffington Post UK:
"Labour MP Austin Mitchell has dismissed calls from Tory MPs to resign after branding US drug giant Pfizer 'rapists' on Twitter. Speaking to the Huffington Post UK, he explained that he used the term 'rapists' as he was referring to the rape 'of a company', warning that their prospective takeover of AstraZeneca would see a 'dismantling of a company and the loss of jobs'. 'I don't know why they want to defend the company. They object to the word so I'll substitute rapaciousness - as they are a rapacious company.' Asked if he had any regrets for using the word "rapists", he replied: 'No'."
The Tory women's minister Nicky Morgan is calling on Ed Miliband to suspend Mitchell. Mitchell, I suspect, doesn't care what the Labour leader does to him...
"In politics there is no point being a shrinking fucking violet is there?" - Tory MP Nicholas Soames, speaking to the Huffington Post UK about Nigel Farage's complaints over negative media coverage of Ukip.
From today's Sun/YouGov poll:
That would give Labour a majority of 26.
Andreas Whittam Smith, writing in the Independent, says: "Why I won't be voting in the European election."
Seumas Milne, writing in the Guardian, says: "The rise of Europe's far right will only be halted by a populism of the left."
Got something you want to share? Please send any stories/tips/quotes/pix/plugs/gossip to Mehdi Hasan (mehdi.hasan@huffingtonpost.com), Ned Simons (ned.simons@huffingtonpost.com) or Asa Bennett (asa.bennett@huffingtonpost.com). You can also follow us on Twitter: @mehdirhasan, @nedsimons, @asabenn and @huffpostukpol